Explore the hidden treasures of Montenegro's beautiful coastline.
The Lustica Peninsula on the western coast of Montenegro stretches out into the Adriatic Sea, with dramatic green hills rising behind breath-taking beaches with sparkling blue water. This land is home to secluded coves, quiet fishing villages and historic forts – and the new seaside town, Lustica Bay. This beautiful town makes a perfect base for exploring the area's most captivating hidden gems, such as the Blue Grotto, Dobrec Cave, the historic Klinci Village, Mirista, Bjelila, Arza Fortress and Rose, Montenegro's oldest coastal port.
The Lustica peninsula has long remained pristine, as Montenegro's medieval cities grew up beside the more sheltered waters of Boka Bay rather than the wilder Adriatic coast. Happily, this means the peninsula retains its legendary charm and natural splendour, with dense olive groves, lush pine forests and secluded blue lagoons. Locals still produce distinctly Montenegrin culinary delights, such as olive oil, prosciutto, cheese, wine and rakija.
Travellers to Montenegro are seeking magical experiences, off the beaten track most tourists take. Lustica Peninsula offers up a host of secret delights, whether you prefer a pristine beach, a significant fort, hiking up to a historic hillside village, or just a moment of blissful silence, broken only by waves lapping the shore. Let's discover some of these hidden wonders.

Note: the best way to reach many of the Lustica Peninsula's secret spots is by boat. In fact, this first one is only reachable by kayak or boat, which is why some days it still feels almost undiscovered.
Blue Grotto Montenegro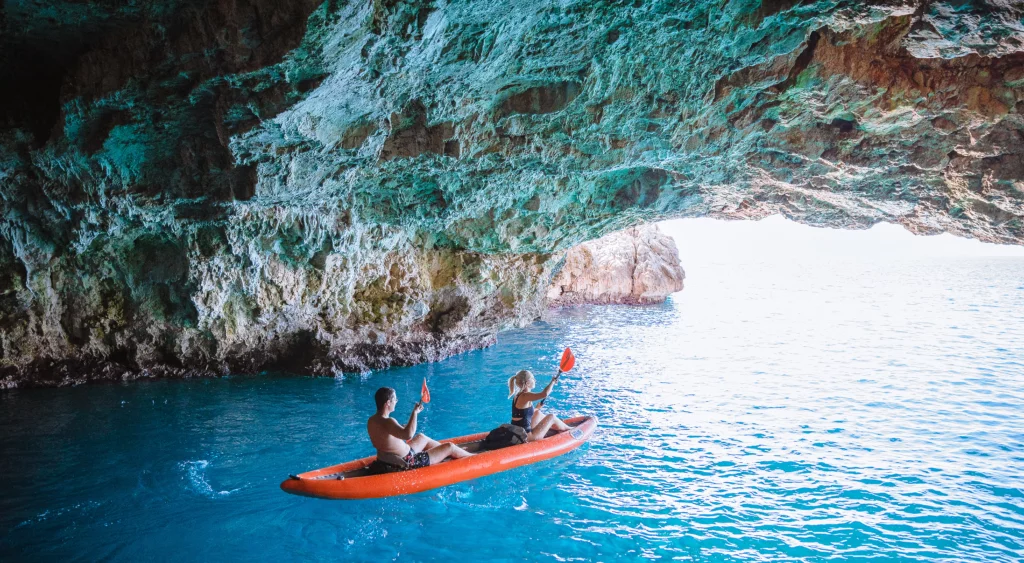 A must-see phenomenon, the Blue Grotto Montenegro is a magical experience. This sea cave lies midway between Lustica Bay and Zanjice Beach, and you'll need to hop on a boat to reach it. As you approach the blue cave, you'll spot the radiant turquoise, luring you inside. The walls inside this vast rock cave practically glow blue, thanks to the iridescent water and rays of light glinting off the sandy bottom. How the Blue Grotto must have dazzled the first person who ever ventured inside! Bring your snorkel and an underwater camera and soak up the atmosphere inside this natural wonder. The Blue Grotto is one of the most picturesque caves along the spectacular Lustica Peninsula coastline, and one of the largest, at 15 metres across. It is now on the list of UNESCOS protected sites. While the blue cave isn't exactly unknown, it's only reachable by boat, so does feel like a very secluded spot.
Arza Beach & Arza Fortress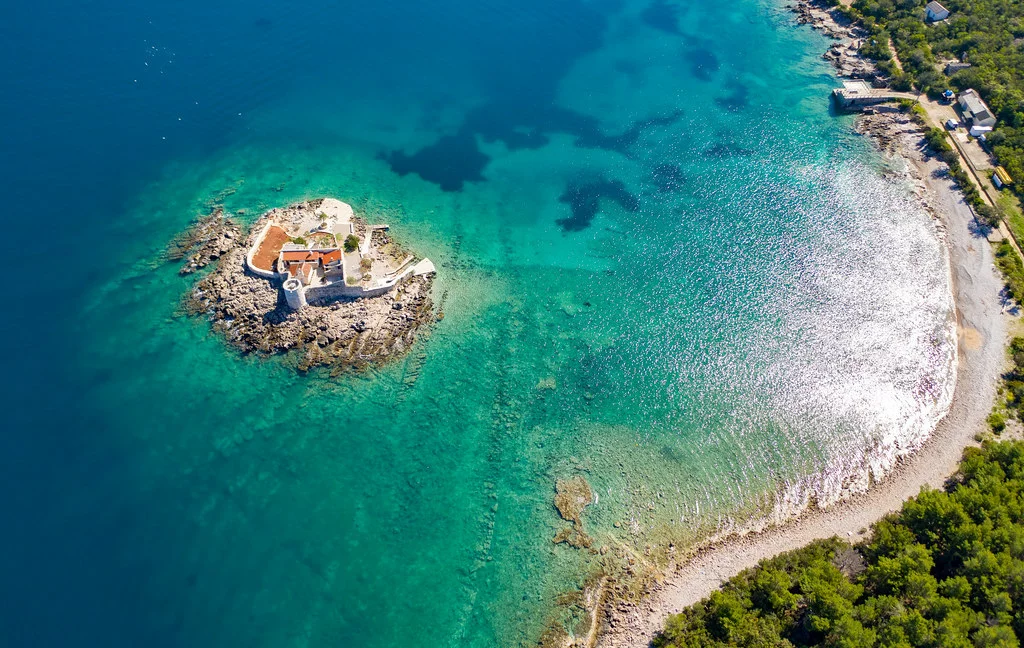 As ships sail from the Adriatic Sea into Boka Bay, they'll spy several naval forts: on the right, the Azra Fortress on Lustica Peninsula, to the left, Cape Oštro on the southern Croatia coast, and in the centre, the small island fortress of Mamula. These 'Guardians of the Bay' were built during Austro-Hungarian rule in the 19th century, forming the first defence for Boka, a vital military base on the Adriatic coast.
Fort Arza, Lustica's impressive clifftop citadel, sits atop a rounded promontory, right next to Arza Beach. Well off the tourist track, this hidden gem is blissfully peaceful, with its wild, unspoiled gravel beach and verdant green hills sloping down to the rocky shore. The views from Arza Beach are picture-perfect, with craggy rocks beside the blue waters, tall mountains framing the horizon, and just offshore, the charming tiny island or Otočić Gospa, home to a historic monastery, Monastir Sveti Vavadenje. The waters of Arza Beach are so clear, anchored boats almost appear to float mid-air.
Mamula Fortress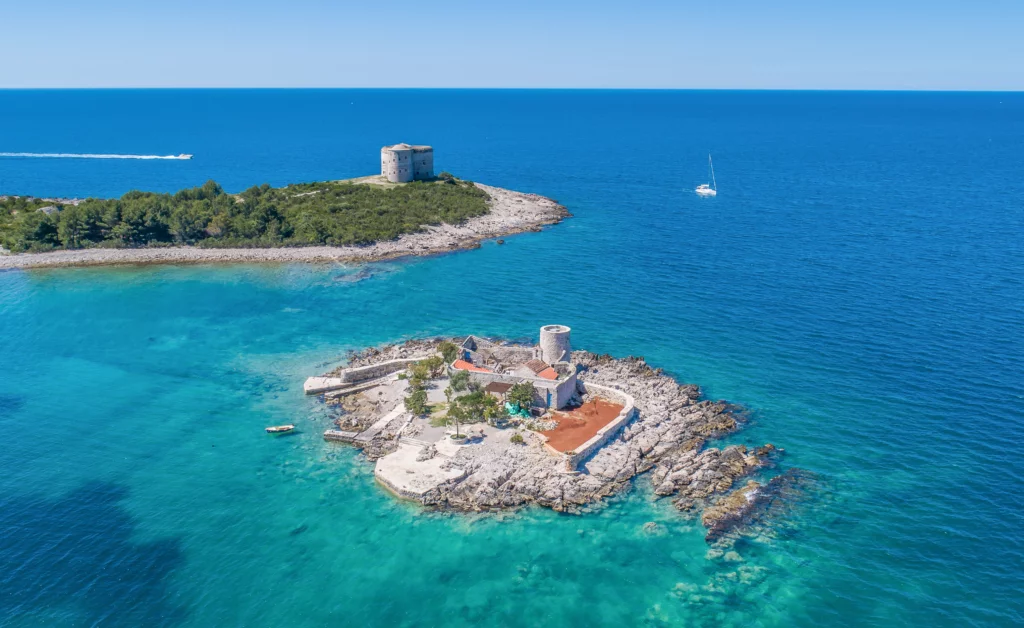 The Mamula fortress was built in 1853 on the small rocky island of Lastavica, to help protect the entrance to the Bay of Kotor. Though experts have called the fortress a masterpiece of military construction, its cannons were never actually fired. Mamula's isolation saw it eventually converted into a prison, used to house prisoners during both world wars. Today, the former fortress has escaped to a happier future, having been renovated and transformed into a luxurious hotel, with a planned heritage museum. Mamula fortress makes a handsome backdrop for Azra Beach, or you can get a closer look as you travel by boat to the Blue Grotto.
Dobrec Cave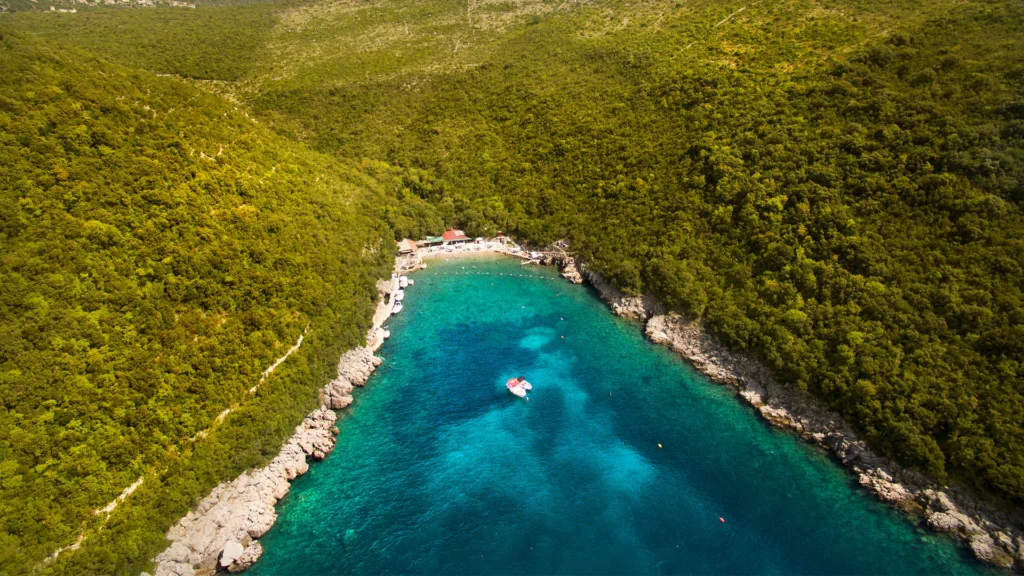 As you sail deeper into Boka Bay, keep an eye out for Dobrec Cave on your right. This hidden gem of Lustica Peninsula delivers a visceral thrill of discovery. Dobrec Beach is nestled into the surrounding cliffs and can only be reached by water, which keeps many tourists away. Head into the cove, which is shielded by lush vegetation. The rocky shores will guide you up the narrow passage, to the charming pebbled Dobrec Beach, just 70 metres long. Formerly wild, Dobrec Beach has now been somewhat tamed, with a gourmet restaurant and modern conveniences, such as shower rooms and beach sunbeds.
Rose Montenegro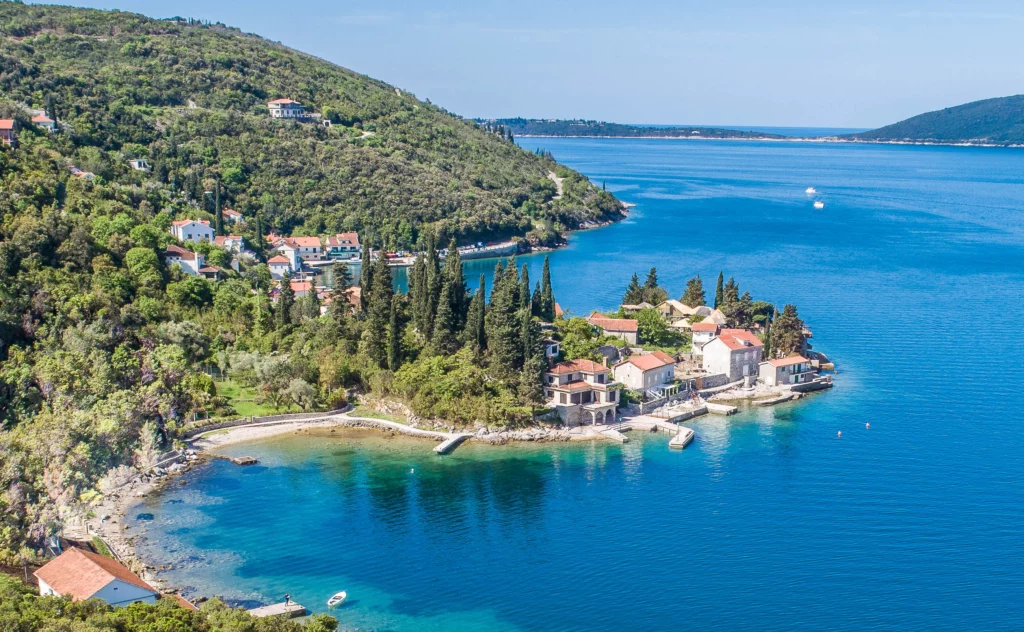 At the very northern tip of the Lustica Peninsula, where ships would sail into the calmer waters of the Bay of Kotor, you'll find Rose, Montenegro's oldest coastal port. This beautiful and historic village was vital for the thriving maritime trade when Venice controlled the Bay of Kotor. Significant sites here include the old Austrian Hungarian fortress, Forte Rose. From this fort, locals could observe ships from Venice, Turkey and beyond, and grant them permission to enter the bay. Some ships weren't so successful, and now lie beneath the water's surface. These shipwrecks attract keen divers and archaeologists.
Today, Rose Montenegro is a charming fishing village that welcomes tourists with a tantalising waterfront promenade and several restaurants, including one inside the Forte Rose. Nearby, there's a quiet cove with a sandy beach, and other quiet beaches just a short walk from the village. From Rose, you can also hop on a sailboat or speedboat for a panoramic tour of the magnificent Kotor Bay.
Klinci Village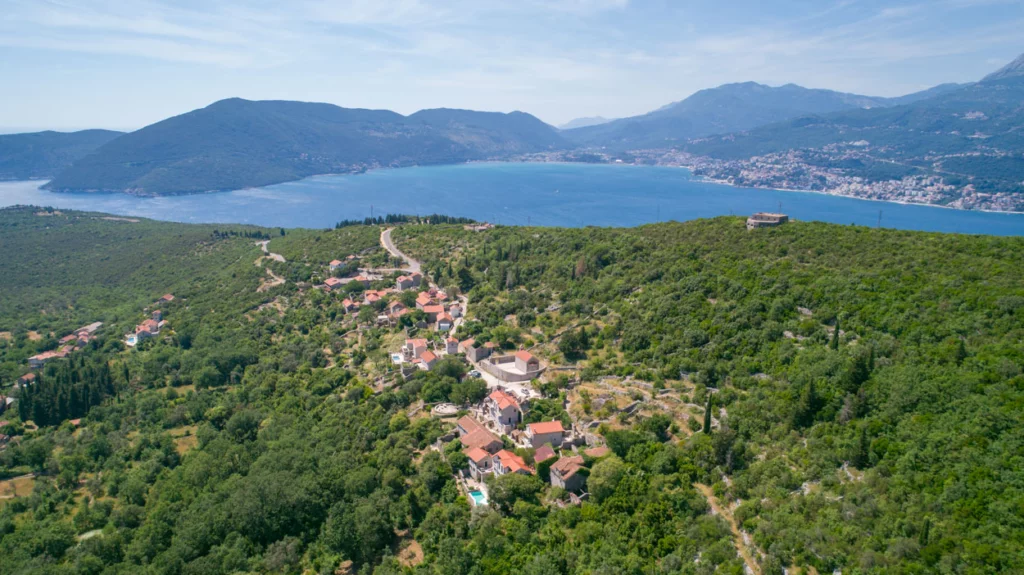 Just inland from Rose, up the hillside, you'll find Klinci Village, an authentically restored 18th-century stone village. This is your chance to get a taste of rural village life on the Lustica Peninsula, with unspoilt scenery, olive groves, horses, donkeys, traditional churches and dazzling views. From this elevated vantage point, you can see all the way across Boka Bay to Herceg Novi, with its medieval old town and yet another historic fortress. In Klinci Village, you can indulge in an olive oil tasting tour or a gastronomy and wine tour, with a taste of Montenegrin specialities, such as local cheeses and Njegusi Proscuitto.
Bjelila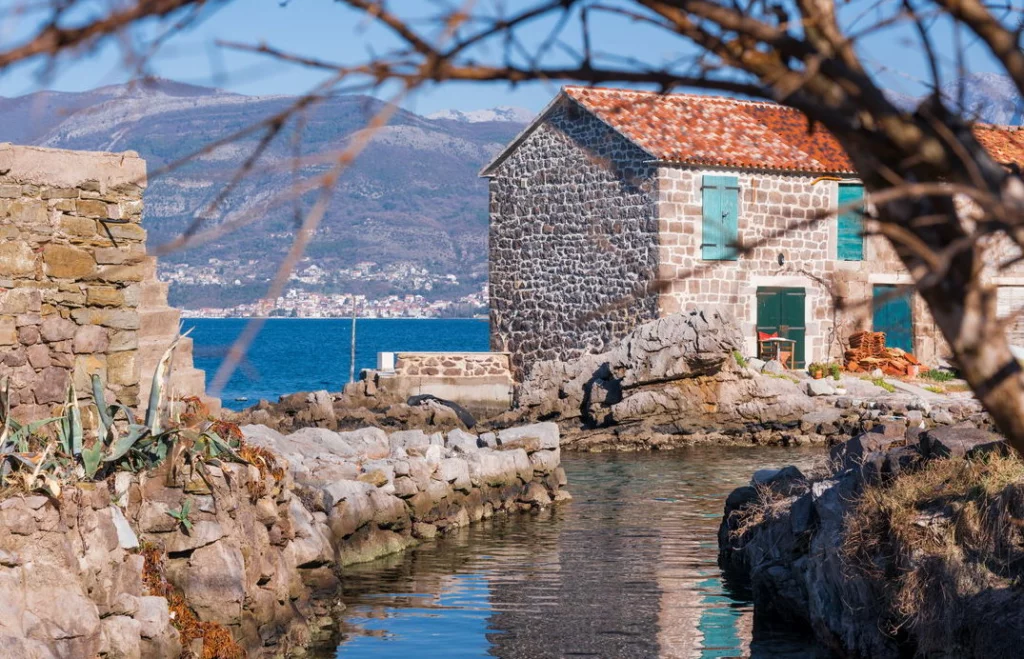 Want to experience the rustic charm of a traditional Montenegrin fishing village? Continue along the northern edge of the Lustica Peninsula, with the extraordinary Bay of Kotor on your left. Pay close attention so you don't miss Bjelila, a small yet entrancing hidden gem.
Bjelila is a tiny fishing village just past Krasici. Bjelila is picture-postcard pretty, thanks to a collection of rustic stone fishermen's houses – some over 700 years old. Many of these houses have been converted into holiday apartments, so you may spot Bjelila on Instagram, as delighted visitors ooh and ahh over the scenery – and the views. There are still fishing boats bobbing in the cove, sometimes joined by stylish yachts. There are concrete terraces onto the water, with views to the mountains across the bay. If you're heading to Bjelila in the off-season, bring a picnic or try the small cafe. Now Bjelila is an ideal spot to escape the summer crowds and heat, as you can almost always feel a light breeze here, and even the water feels cooler. It also seems that here the sun rises earlier and sets later. Or maybe it's just wishful thinking… that you have longer to relish the view.
Mirista, Lustica Peninsula
Just up the coast from Arza Beach, you'll discover Mirište, one of the tiniest coves on the Adriatic Sea, famous for its vivid blue water. Mirista Beach has a mix of sand and pebbles, and a concrete shore with sun loungers. From the beach, the water colour shifts from sparkling aquamarine in the shallows to deep cobalt farther from shore. If you stay to watch the sun set behind the mountains across the bay… you're certain to feel the wonder. At the docks you'll see small boats, with larger yachts anchored offshore. This quiet beach is an appealing place to swim, surrounded by olive and cypress trees. Thanks to its beauty, Mirište Beach is becoming more popular for tourists, with beachy comforts such as sun loungers, umbrellas, restaurants, cafés, WCs and showers. You can reach Mirište, Montenegro by road as well as by boat.
As you can see, Montenegro's Lustica Peninsula is a unique destination, with a range of fascinating places to see. Lustica Bay is an ideal base from which to explore the entire peninsula, by boat, car or even foot. There are so many secret spots for you to discover, from the Blue Grotto and other sea caves to hidden coves such as Dobrec Cave, to quiet beaches like Mirista and Arza Beach, to the charming villages of Klinci and Bjelila. Activities range from swimming and boating to exploring historic sites such as Rose or taking an olive grove tour. Lustica Peninsula offers so many fascinating and fun places to visit, for the first time – or again and again.