Summer's here, and it's time to discover some of the most beautiful beaches in Montenegro – right here at Luštica Bay. See why we're recommending these top beach hotspots for the sun-drenched days of summer, our favourite season.
THE MOST BEAUTIFUL BEACHES IN MONTENEGRO
Montenegro's breathtaking natural beauty includes a dramatic rocky coastline, with gorgeous sandy or pebbled beaches fringed with lush green hills. Some of our beaches are trendy and sophisticated, while other beaches feel more remote, almost undiscovered. All of our beaches are astonishingly beautiful, with clean, clear water – and 270 days of sunshine each year.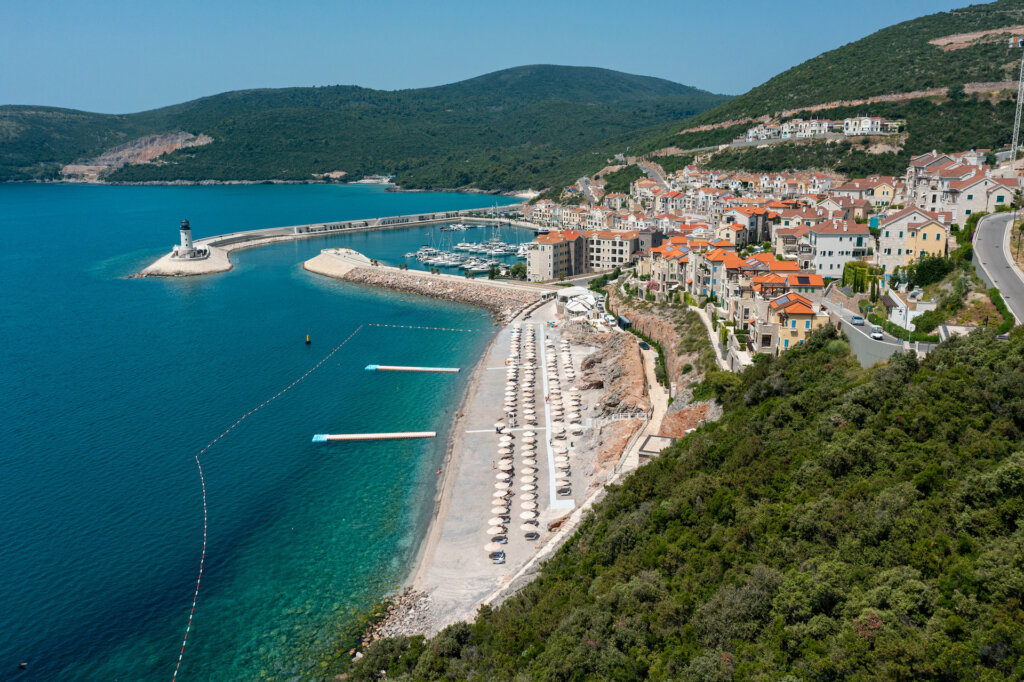 The four beautiful beaches on our list have something for everyone, whether your perfect beach holiday includes: diving in to snorkel with fish or explore underwater caves and reefs… paddling a stand-up board in a secluded cove… yoga on the sand… or simply relaxing on a sun lounger, with a cool drink in hand.
So… grab your sunscreen and let our beach taxi boat whisk you away to some of the most beautiful beaches in Montenegro, all right here in Luštica Bay.
---
The Chedi Beach: relaxed luxury
This private pebbly beach is operated by a five-star hotel, so expect a splash of luxury with your sunshine. The panoramic sea views are framed by green mountains to your left and Luštica Bay's lighthouse on your right. Elegant rows of sun loungers and parasols give the feel of an exclusive beach club – apt, as this calm space is reserved just for hotel guests and Luštica Bay residents and renters. Relax with some gentle yoga on the beach or stroll down the floating pontoons to deeper waters, for a refreshing dip. Feeling more adventurous? Glide across the tranquil bay on a SUP (stand-up paddleboard) or kayak.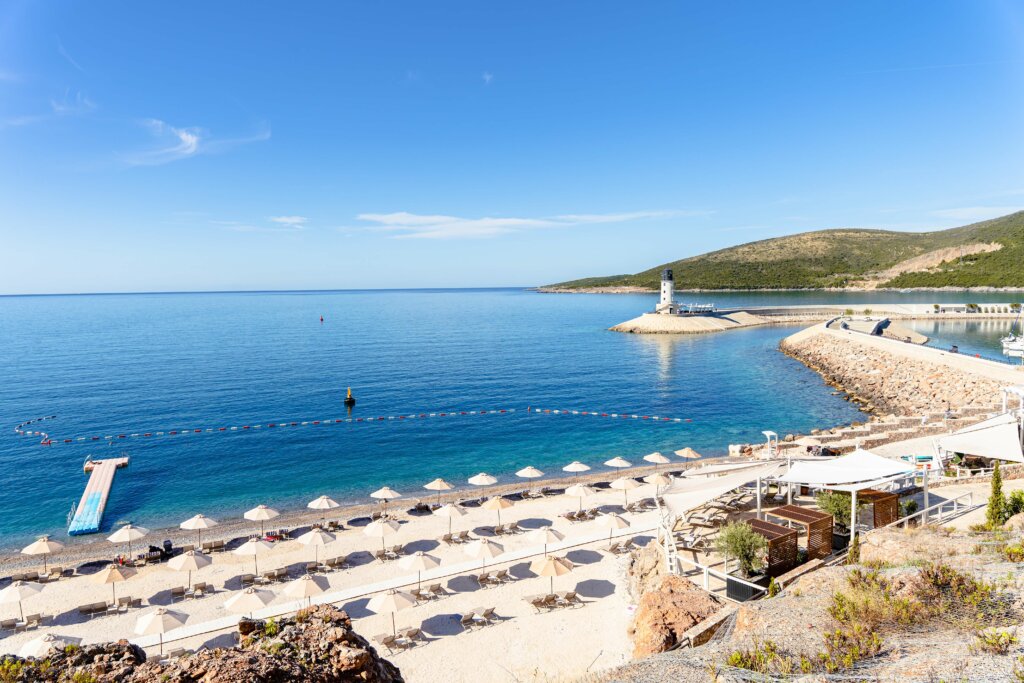 At the edge of the beach, The Rok Beach Bar & Lounge provides a tempting setting for drinks and nibbles. The bar's open-air terraces are built on the natural rock at the seaside. The Rok's drinks menu is satisfyingly comprehensive, with signature cocktails and a fine selection of wines and Champagne. The décor is relaxed and understated, so the azure and aquamarine of sky and sea shine through. The Rok serves tasty lunches: vibrant Mediterranean salads, Korean Pulled Pork sandwiches, pizzas and juicy burgers. At night there's an Asian flavour, with sushi and curries (Indonesian, Malaysian or Thai). The bar is open till 11pm, so stick around for spectacular sunsets and moonlight music and events.
The Chedi Beach is just steps from Luštica Bay's lively marina and promenade, with an additional selection of enticing bars, boutiques and al fresco restaurants.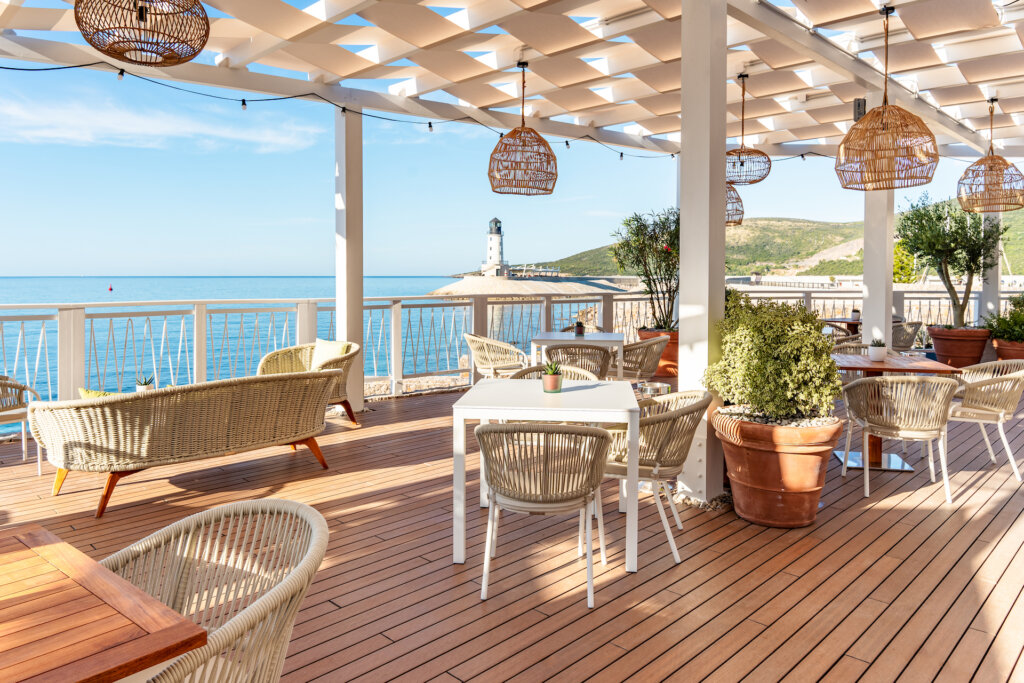 ---
The Marina Beach: adrenaline-fuelled beach fun
If you prefer to be in the water rather than sunbathing, head to the Marina Beach for memorable watersports adventures such as paddleboards, kayaks, snorkeling, and free diving from the cliffs.
This pebbly beach is just a short walk from our harbour, along the Lungo Mare, a scenic coastal walking path. This 700m path takes you past hidden coves and over wooden bridge crossings, with astonishing sea views around every bend. The Marina Beach is calm and family-friendly, with no bar or background music, just sea-focused fun. There's a dock for boats (including our beach-to-beach taxi).
Note: there's no food service, just a beverage service from mid-July, so pack drinks and snacks – or a proper picnic.
---
Almara by Luštica Bay: sophisticated beach club
If you're looking for the best beach club in Montenegro, head farther along the Lungo Mare, to the Almara Beach Club. Or step from our shuttle boat straight onto the club's pier, arriving fresh and ready for your close-up.
One of the trendiest beaches in Montenegro, this exclusive club exudes grown-up glamour, with a heady mix of chilled cocktails and cool music, with live bands, DJs and unmissable events. The beaches are golden pebbles and sand, with a splendid mix of carefree relaxation and exciting watersports.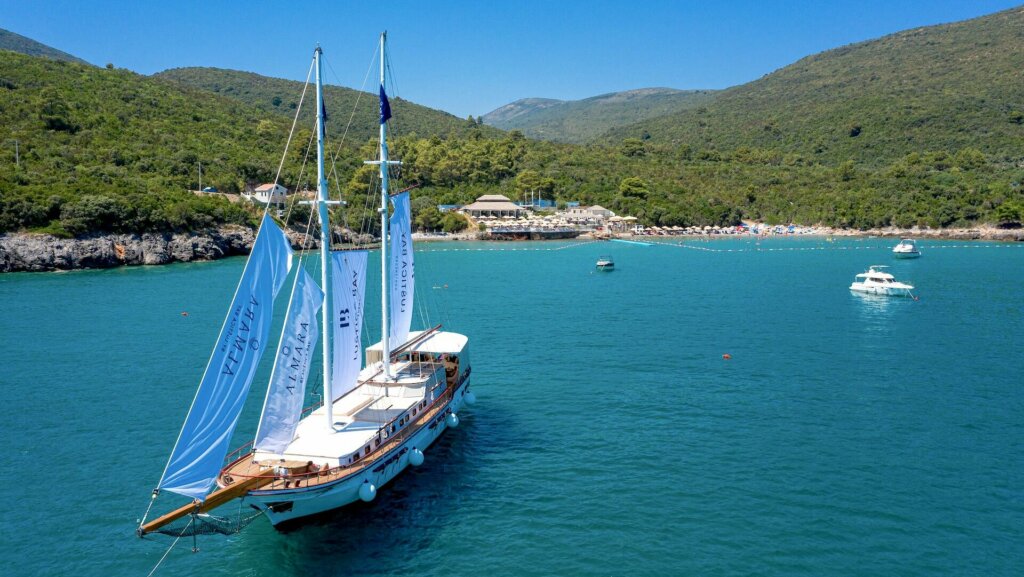 The bar is surrounded by spacious terraces that seduce sunseekers with comfy sun loungers and generous parasols. Treat yourself to a private cabana with breezy semi-sheer canopy for a taste of celebrity lifestyle – ideal for couples, too. Enjoy stunning views across the Adriatic, where sailboats bob in the distance.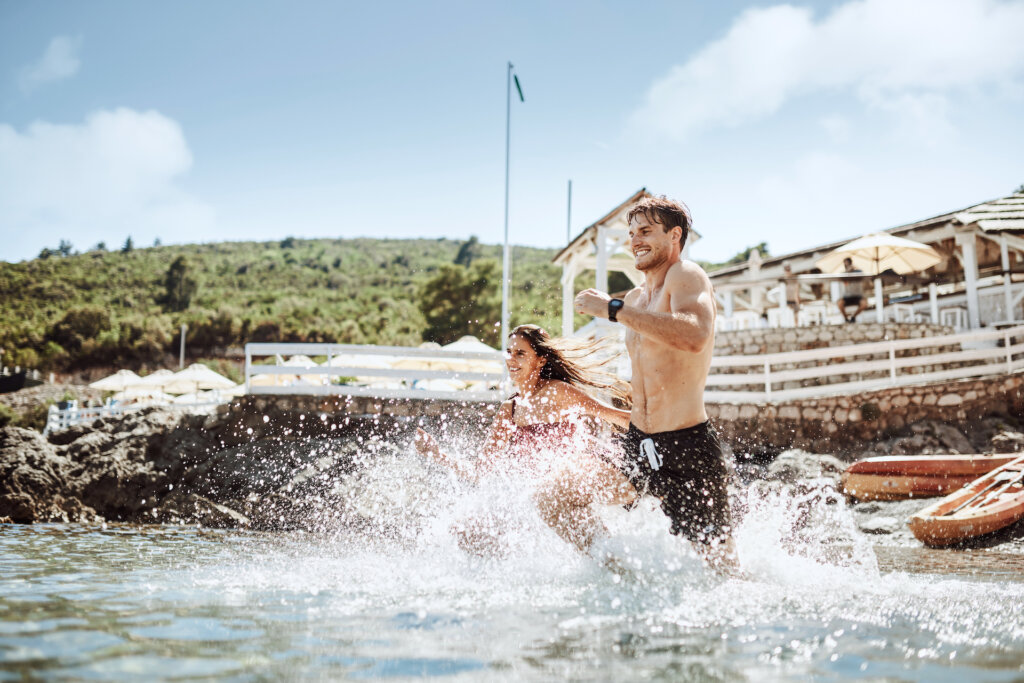 Pebbled beaches stretch out along both sides of the terrace, and the sea here really is crystal clear. Almara Beach Club sets the scene for relaxation and fun, whether for you that means dancing… or hopping on a jet ski or kayak to explore the bay.
The impressive restaurant is right by the beach, as you'd guess from the fresh wild sea bass and tasty paella. The menu is Mediterranean and Asian, overseen by one of the area's top chefs.
---
21 Beach Club: secluded and seductive
If you're seeking a quiet beach, take our water taxi out to 21 Beach Club on Velja Špilja, absolutely one of the most unique and spectacular places to swim in Montenegro. The small beach is set in a curved cove, with golden sands and a jaw-dropping backdrop of golden cliffs and stone. The cliffs extend right into the water along one side of the beach, adding to the intimate and almost otherworldly atmosphere.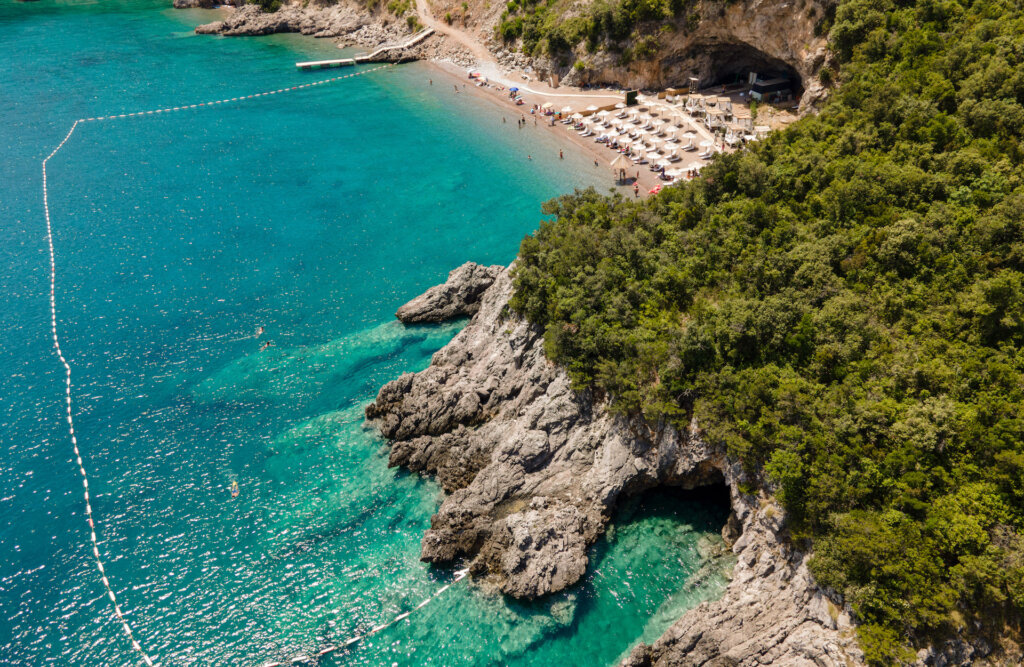 This picturesque beach club hints at dreamy days in the Mediterranean sun, with a relaxed and friendly atmosphere. The cabanas have a rustic charm, and the thatched beach parasols echo the colour of the golden sand. Idle lazily on swings set at the water's edge, cooling your feet in the perfectly clear water as you gaze across the bay at a dramatic mountainscape. The restaurant is right on the beach, with a shaded terrace offering al fresco dining, featuring light bites, fresh Mediterranean dishes and cool drinks. The beach is popular with Luštica Bay residents and renters, and is also open to the public, with charges for sun loungers and cabanas.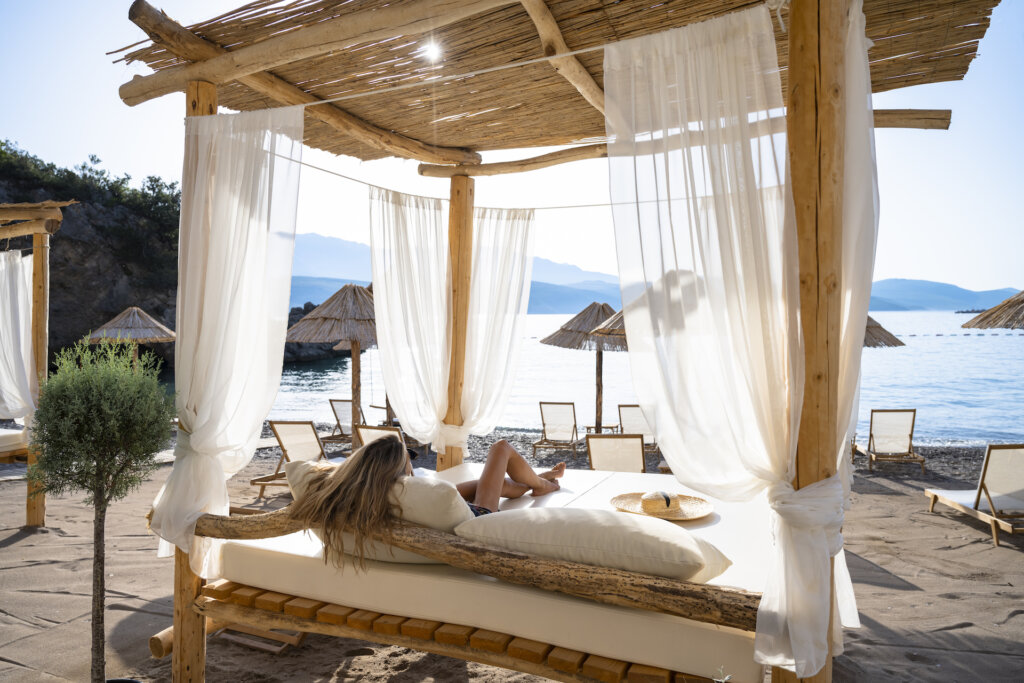 Remember, our beach-to-beach boat taxi is docked in the Luštica Bay Marina, ready to ferry you away to any of these beautiful and unique Mediterranean beaches.
---
ANNOUNCEMENT: We're adding a fifth spectacular beach to our best beaches list soon… and we can't wait to tell you about it. Keep an eye on the blog for details of another stunning Luštica Bay beach where you can soak up the Mediterranean sunshine. In the meantime, a little hint: a very small word that means very big peace.