Montenegro is fast becoming one of the world's most sought-after destinations. Rugged majestic mountains, spectacular UNESCO heritage sites, medieval villages, stunning seascapes, and beautiful beaches make this magical country a haven of inspiring tourism attractions and home to an aspirational lifestyle. The great thing about this Balkan nation is that it is as diverse as it is beautiful. Strategically located in the southeastern part of Europe, Montenegro offers the perfect destination for those seeking out water adventures like sailing, water skiing, and diving. For lovers of history and nature it is a place steeped in stunning attractions that surprise and delight at every turn. Using the euro as currency, it is also known for its stable economy, attractive rates of taxation and reasonable cost of living
This is a place to embrace and enjoy life all year round. The country has a mild climate with 240 sunny days annually which attracts people from all around the globe. Montenegro also offers a lot of variety, and one cannot get tired or even bored being in such a country. Featuring a diversity of cultures, while accommodating different nationalities, it is a nation that engages and welcomes the world.
Making a move to Montenegro is therefore an attractive option, and obtaining residence is a straightforward process that entails a few eligibility criteria. Never far from anywhere, the nation is strategically positioned with easy connectivity to all important parts of the world. The country has two international airports: one at Podgorica and another at Tivat, in addition to four ports. In terms of a great lifestyle move to a place of beauty, diversity, and global access, then Montenegro is the best place for you.
Relocate to Montenegro for Great Lifestyle Choices
Moving to Montenegro as an expatriate brings with it so many attractive opportunities and lifestyle choices, and Luštica Bay offers the perfect place for this. For those wondering how to move to Montenegro the benefits are appealing. Resident visas are easy to arrange and the attractive tax rates, scenic natural surroundings, high quality of life, and proximity to many European destinations make this a perfect destination.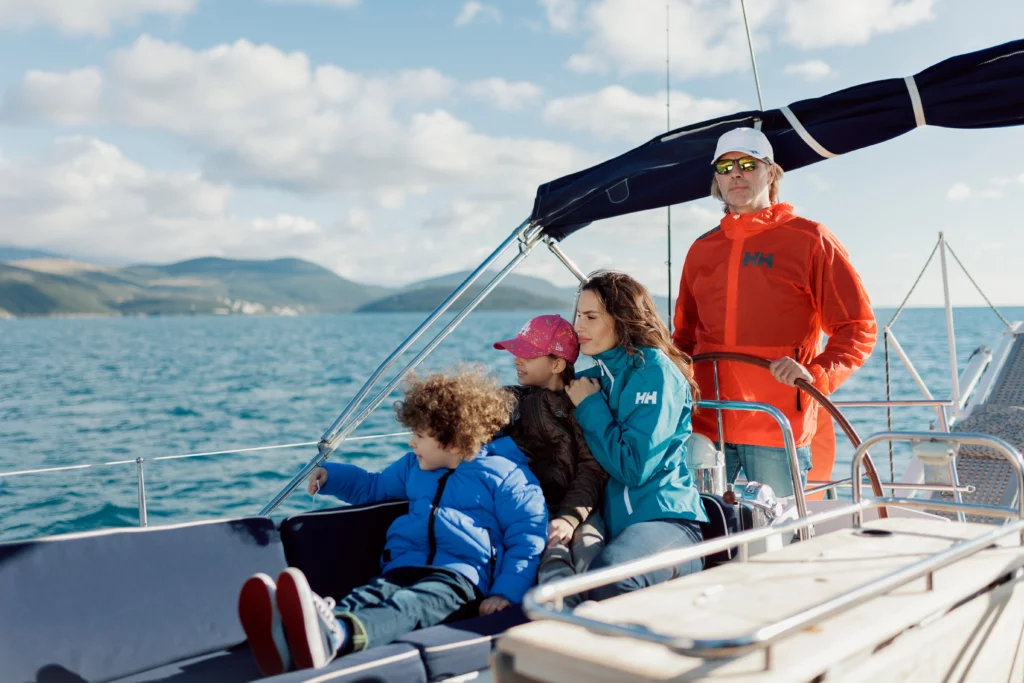 The spectacular 300 km Adriatic coastline is breathtakingly beautiful and offers perfect sailing conditions with world-class marinas which offer distinct advantages for boatowners beyond Europe. Montenegro's dramatically mountainous landscape offers hiking and outdoor enthusiasts the perfect playground to explore this stunning nation. Furthermore, with a total of five national parks covering 10% of this country, the choice of flora and fauna is spectacular.
Another great advantage of Montenegro is that it offers a perfect mix of both Western and Eastern cultures. Its culture has been influenced by the Serbian Empire, the Byzantine Empire, Ancient Greece, Ancient Rome, Christianity, the Ottoman Empire, the Republic of Venice, Austria-Hungary, and Yugoslavia. This can be found in everywhere from the spectacular Venetian architecture through to the vibrant eclectic cuisine.
The Convenience of an Attractive Cost of Living
Montenegro is known for its affordable cost of living when compared to EU countries or the US. Utilities such as water, electric, internet etc. are reasonably priced making it an attractive option.
Montenegro's cost of living is estimated at 43%, which is considerably lower than the US or UK. The average cost of living is 69% less than the US, and 64% less than the UK (Source: Living Cost Org 2022). This makes it the optimal choice to live, work and play.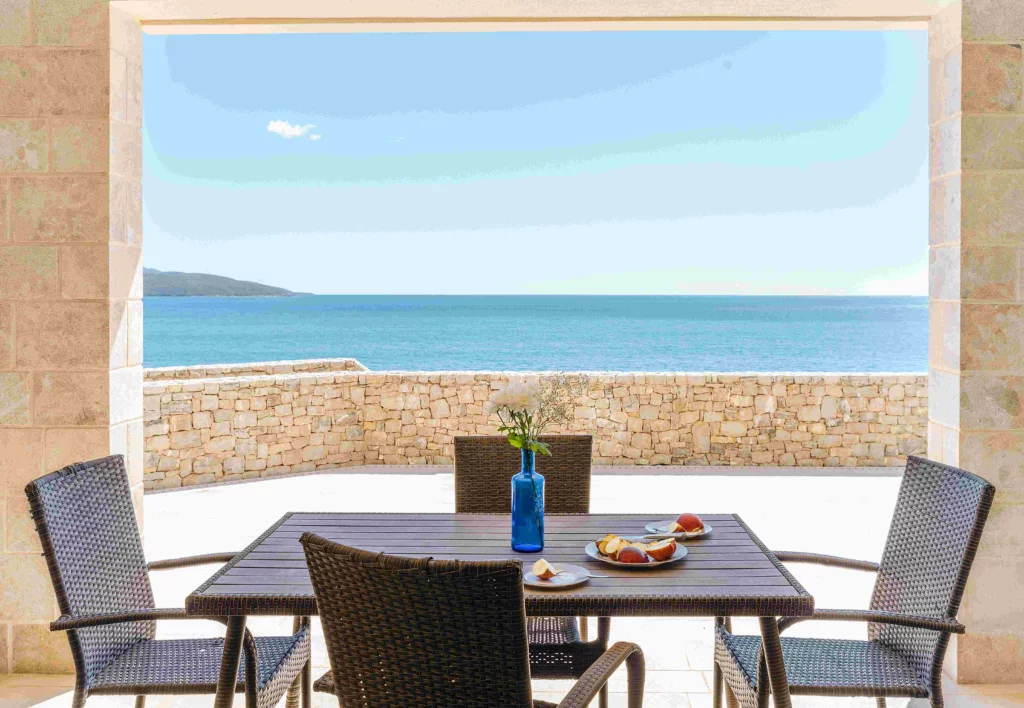 Relocating for Work
Montenegro is great place to stay or work whilst enjoying a stunning environment beside the Adriatic. Visiting is easy – US, UK, and other EU citizens can stay come here visa-free for 90 days. Your passport may allow you to stay in the country without a visa, but to make the move to Montenegro and take advantage of its dynamic economy, you should acquire a temporary or permanent Montenegro residency permit.
Requirements for the Work Residence Permit Application:
Valid passport
Diploma
Proof of zero criminal records (issued within the last six months)
Birth certificate
Certificate of Property Possession
Valid medical insurance (not older than 30 days)
Proof of a EUR 3,650 deposit into a legit bank
Relocating for Retiring
In Montenegro, a retirement visa isn't usually granted. There are other alternatives, however, that you can use if you wish to retire in Montenegro. The easiest way is getting a Montenegro residence permit that gives you more time in the country. Be sure to apply for a long-stay Montenegro visa beforehand though. Other ways to get permanent residency include applying for a Montenegro Golden Visa, or a Montenegro Temporary Residence Permit.
Retirement Eligibility Criteria in Montenegro:
Enough sustenance means for you and any of your dependents
Clear criminal record
Good health conditions
Must not be considered a threat to the country or its citizens
Your Journey to Montenegrin Citizenship
Launched by the Montenegro government in 2019, the Citizenship by Investment (CBI) Program enables qualifying investors and their families to acquire a Montenegrin passport. To be eligible you'll need to invest in Montenegro via any government-approved development project and make a donation to fund an aspect of its development. Having fulfilled all necessary qualification requirements, you will need to provide:
Proof that all investment funds are legally obtained
Proof of no criminal record
Luštica Bay, Montenegro, a Place to Belong
If you are searching for a place to belong in your move to Montenegro, then look no further. Luštica Bay is nestled in the heart of the spectacular Luštica Peninsula and is set between the entrance to the stunning Bay of Kotor and the Adriatic Sea. The vision of Orascom Property Holdings, this spectacular community offers the finest in Montenegro properties. Set against the backdrop of the Adriatic Sea, it offers the epitome of premium living set seamlessly amongst nature. For those buying property in Montenegro it is an award-winning choice which distinguishes itself as one of the most prestigious real estate options.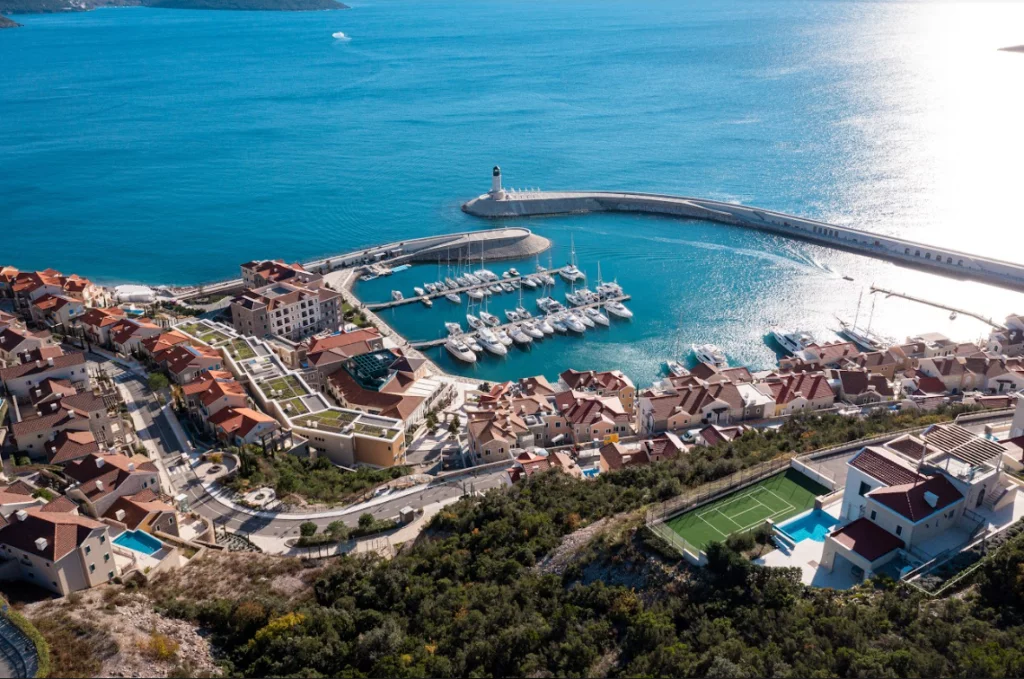 In terms of architecture, the community represents modern residential building design that captures the spirit of the Mediterranean whilst charmingly reflecting Montenegrin architecture. Whether you are a first-time buyer or a seasoned investor, this growing community of over 40 nationalities presents properties built with sustainability, style, and quality firmly at the forefront. Furthermore, as a privileged homeowner, you can expect exceptional property maintenance overseen by our dedicated team.
The world is never far away at Luštica Bay. In terms of connectivity, your home is within easy reach of two international Montenegro airports and offers easy access to other destinations via sea and road, or even helicopter using the dedicated heliport of Luštica Bay. The recently built world-class marina also provides easy access to open sea, making it even more appealing to boat lovers and yacht owners.
Luštica Bay offers a wide array of property options ranging from studio apartments, town houses, detached villas, semi-detached villas, exclusive villas, to penthouses. Additionally, you can find superb off plan, built, resale, or even under construction purchase plans for its exquisite collection of properties. The masterplan for this impressive development also includes seven world-class and boutique hotels, two marinas and an eighteen-hole golf course so investing in Luštica Bay, is an investment in a bright future.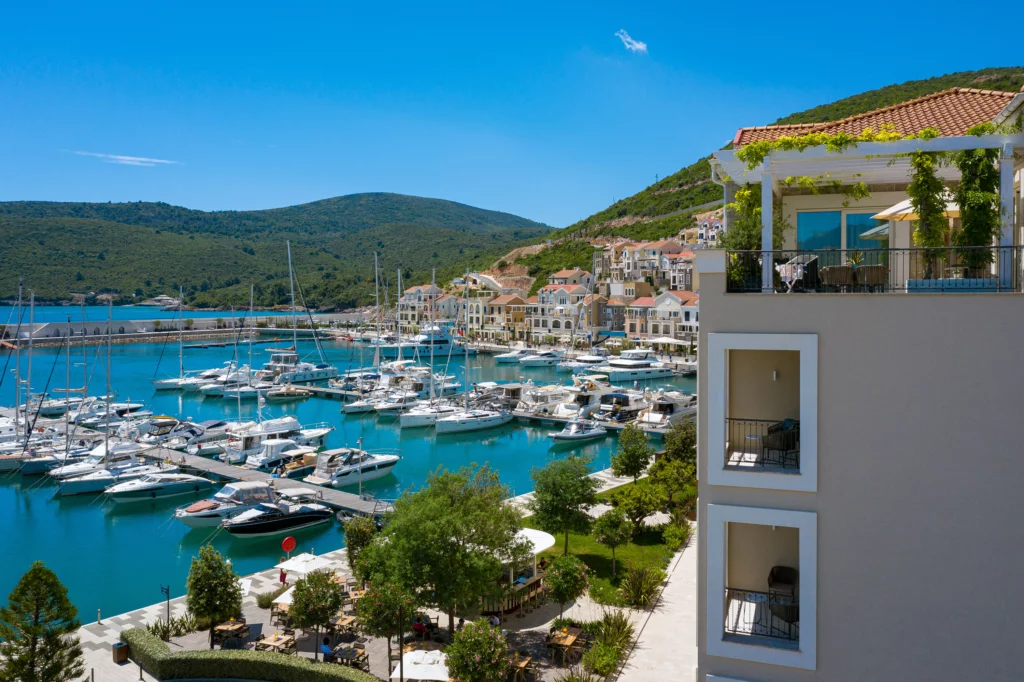 Making the move to Montenegro and investing in the home of your dreams is easy if you have the correct type of advice and guidance.
Get in touch with our property advisers today to find out more about what Luštica Bay, Montenegro has to offer.
Contact Us: +382 67 050 550 or sales@lušticabay.com