A few of the best restaurants – and best views.
Where to eat: A guide to dining in Luštica Bay, Montenegro
In addition to sun-drenched beaches, Luštica Bay is also home to some of the very best restaurants in Montenegro. With so many top restaurants dotted along the marina's promenade, you're spoiled for choice. Fancy the best local seafood restaurant, fresh Mediterranean cuisine, or a classic Italian meal? You're in luck. You can also sample traditional Montenegrin food, such as the famous Njeguski prosciutto. Similar to Italian 'prosciutto crudo', this dry-cured meat is from a nearby village on the slopes of Mount Lovćen. The mountain air and sea air mix as the prosciutto cures, lending a distinctive flavour and aroma, along with the beech used for smoking. Many of the promenade's restaurants also serve local cheeses, and olives – the rolling hills around the Luštica peninsula are covered with Mediterranean Stone Pine and olive trees.
So, prepare for mouthwatering flavours – and breathtaking views. These top 8 restaurants are also some of the best restaurants with a view of the Mediterranean. Terrace dining is perfect for soaking up the stunning scene, dominated by blue sky and blue sea, framed by lush green hills.
---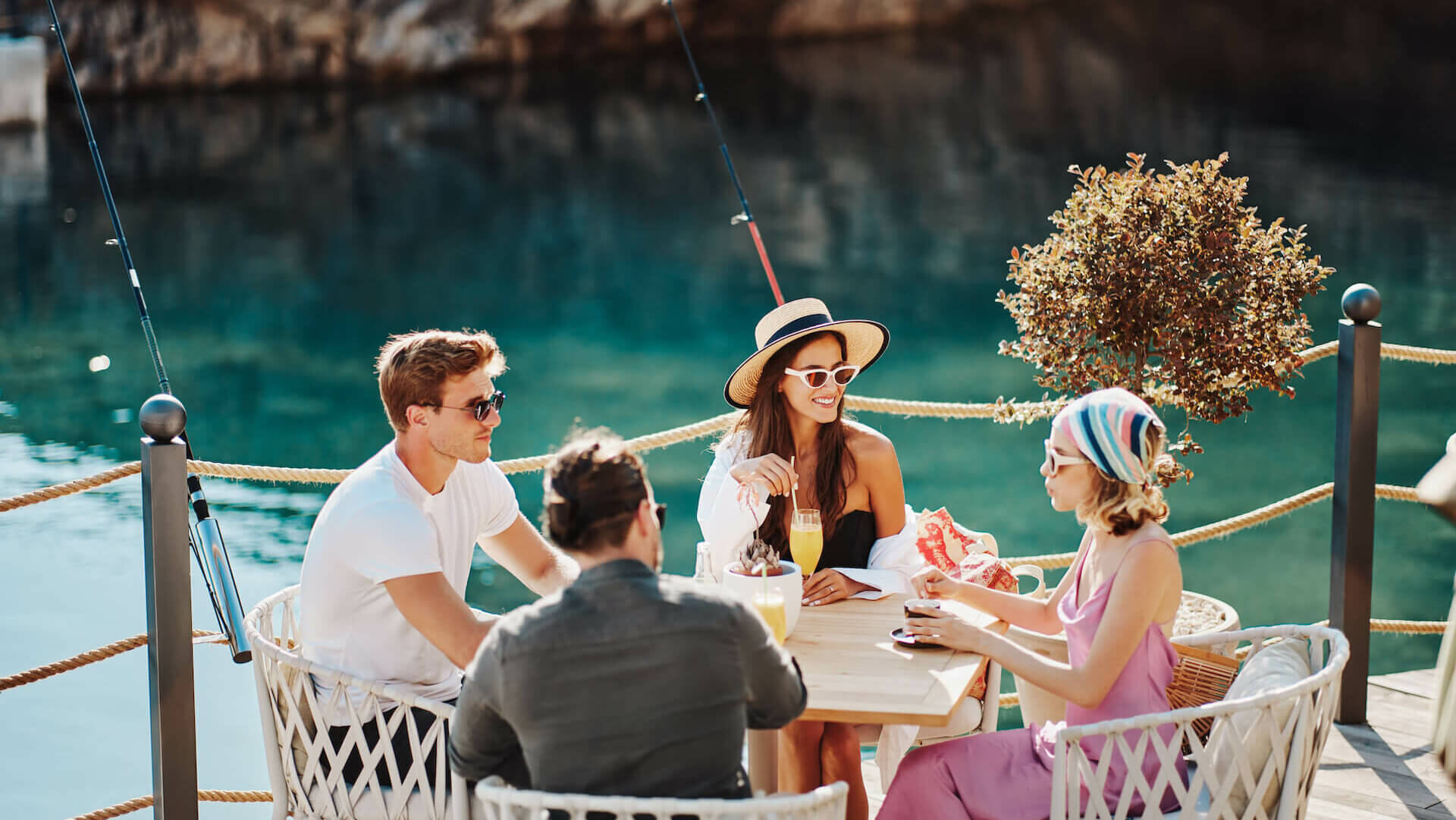 Expect a warm welcome at Kiki's, where friends gather for cocktails and dinner on the terrace, with a picture-perfect background of sailboats and azure sea. Start with a Kiki's Garden cocktail – a sparkling pink concoction with aged rum and watermelon, topped with berries, lime and fresh flowers.
Your host, Kiki (aka Federica Scolari) presents a seductive menu with classic Italian and Mediterranean flavours, including the local Njeguski prosciutto. Everyone is head-over-heels for the Homemade Trofie with Mixed Herb Pesto and Stracciatella Cheese. The pasta has a twist and so does the pesto, swapping traditional basil for rosemary, fresh mint, and parsley (a serendipitous improvisation that's become a new classic).
Kiki's serves a host of fine wines, from crisp Italian white wines like Gavi di Gavi to charming rosés such as Chiaretto de Barolino and full-bodied Italian reds.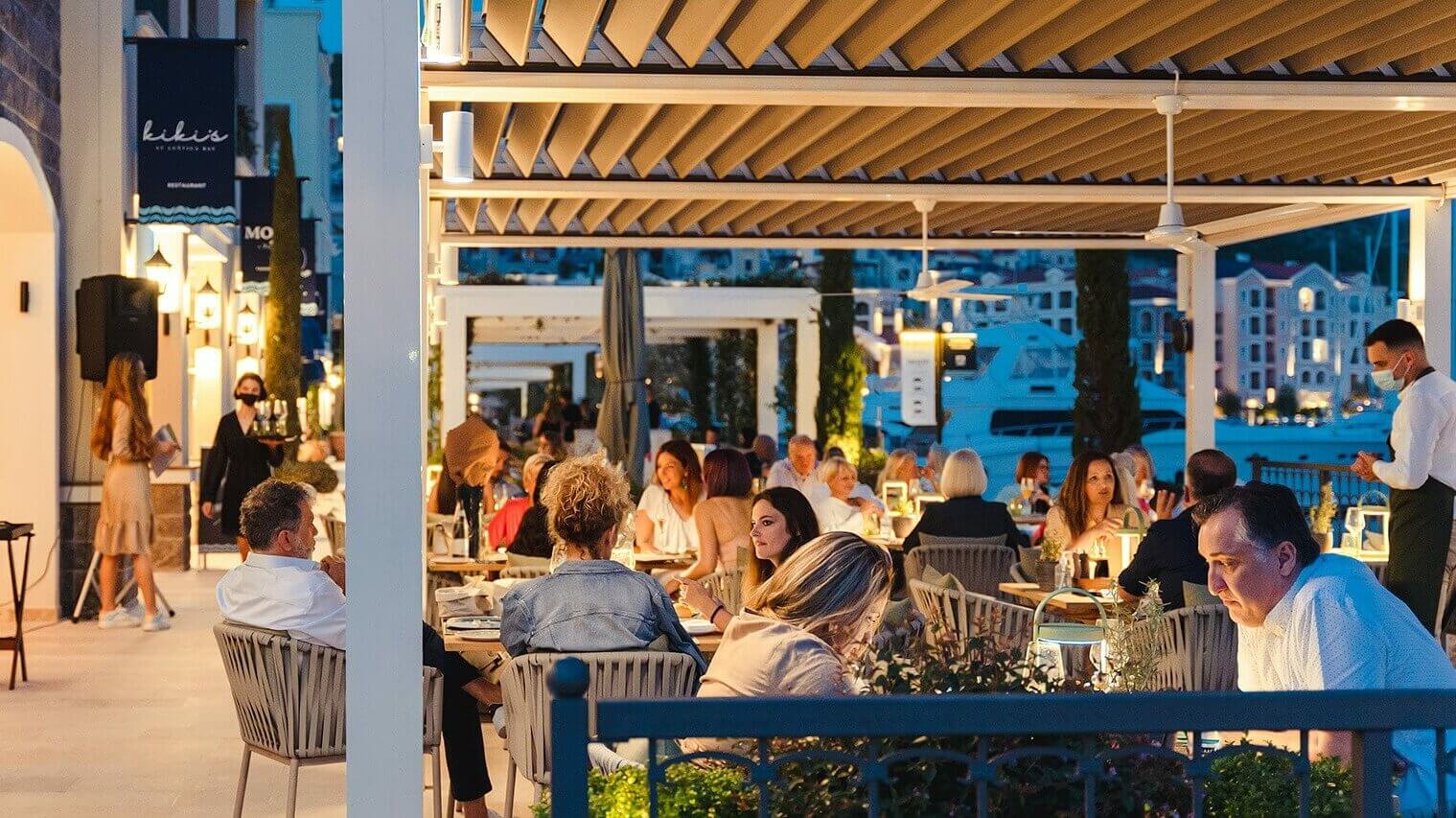 The tantalizing Seafood Skewers with Couscous Tabbouleh are a real showstopper – dramatic presentation to match the amazing flavours. Or choose grilled Mediterranean octopus, prawns and tuna, served with a fresh tabbouleh, a flavour fusion inspired by Kiki's time in Egypt. That's where she opened her first branch, before bringing her passion for food to Luštica Bay.
Of course Kiki's serves a delicious tiramisu, with the traditional espresso and amaretto syrup, plus a zing from fresh raspberries.
Kiki's is gorgeous inside and out, and the lower deck overlooks a natural rock cave and tranquil pool. There are even fishing rods next to your table, if you're feeling lucky. One gentleman was – when his now-fiancé accepted his proposal in this romantic setting.
---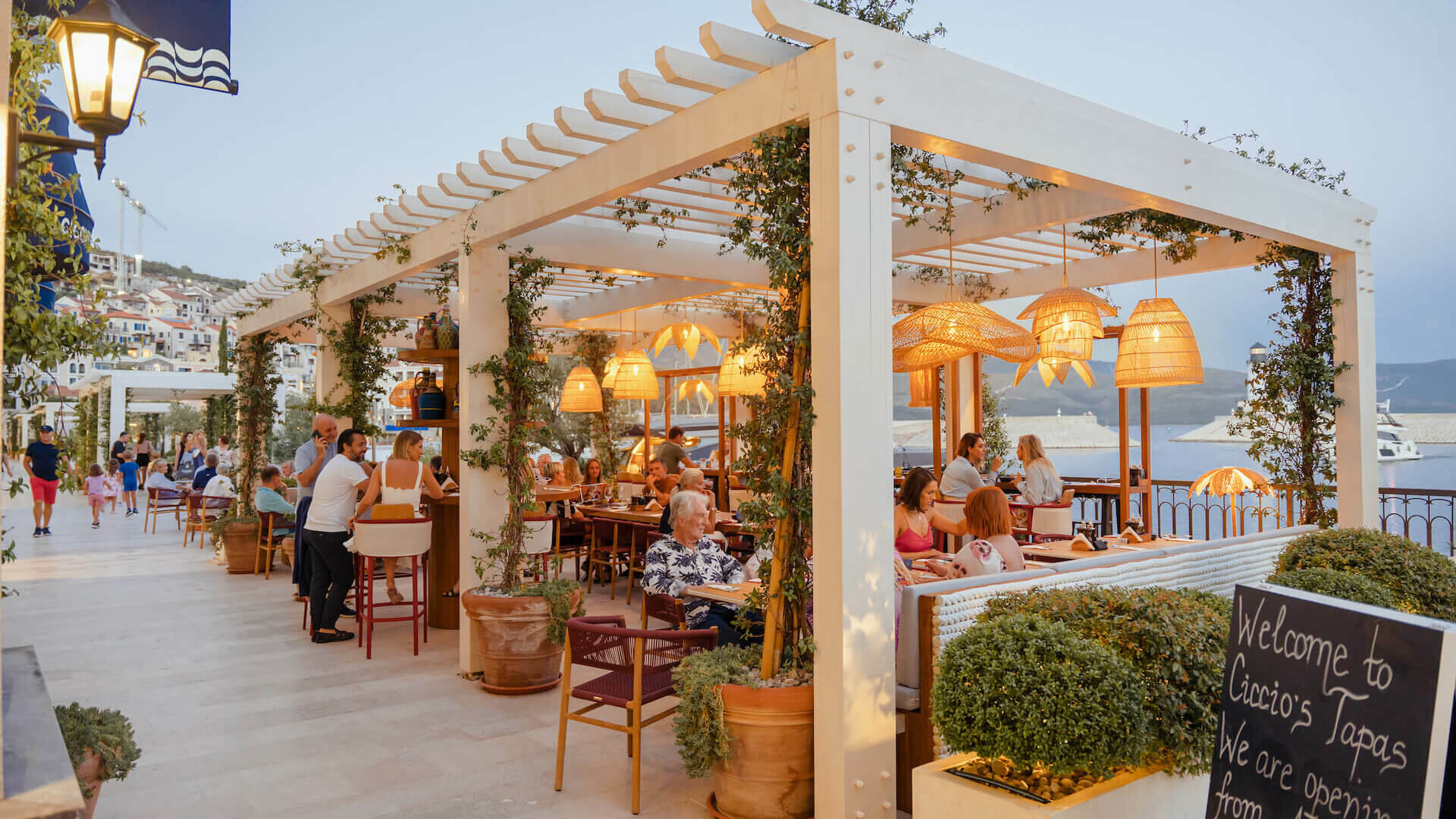 Ciccio's Tapas Bar & Concept Store
Ciccio's epitomizes the Mediterranean lifestyle of Luštica Bay, with a stunning terrace and relaxed yet elegant atmosphere. The newest restaurant on the promenade features tasty tapas, perfect for sharing. The charming setting is a delightful place to meet friends for a lazy afternoon, soaking up the view and the vibe – and refreshing beer, wine and cocktails. If the attractive décor inspires you, pop into Ciccio's concept store next door. The shop is bursting with impressive homewares, accessories and gifts.
---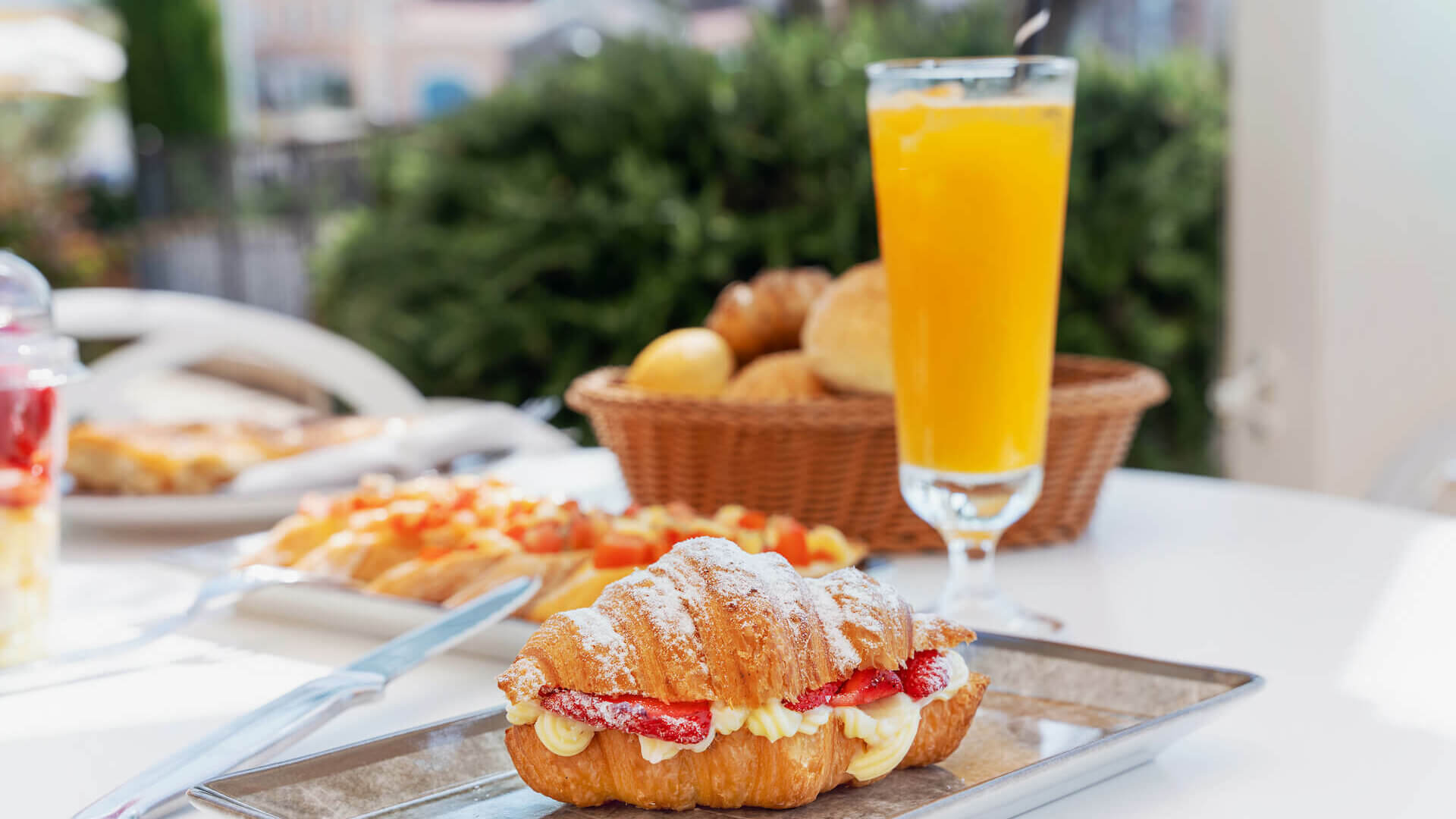 Pekara Davidović
Start a new morning ritual: stroll down the promenade for breakfast at this artisanal bakery: tempting croissants, doughnuts, pastries and bread fresh from the oven. Enjoy delicious coffee, freshly squeezed juices and the Mediterranean view. Founded 30 years ago, this family-run pekara (bakery) is one of the best bakeries in Tivat, and is now devoted to creating delicious moments at Luštica Bay.
Pekara Davidović is well-known for their tempting range of traditional Balkan bureks, delectable parcels of hot, flaky dough, packed with sweet or savoury delicacies. Their apple and cherry burek is very popular, as are the juicy meat, melted cheese, spinach and other varieties. Pick up a fresh loaf of bread or a delicious pie to take home. The rich fudgy čokokejk (chocolate cake) is especially scrumptious.
---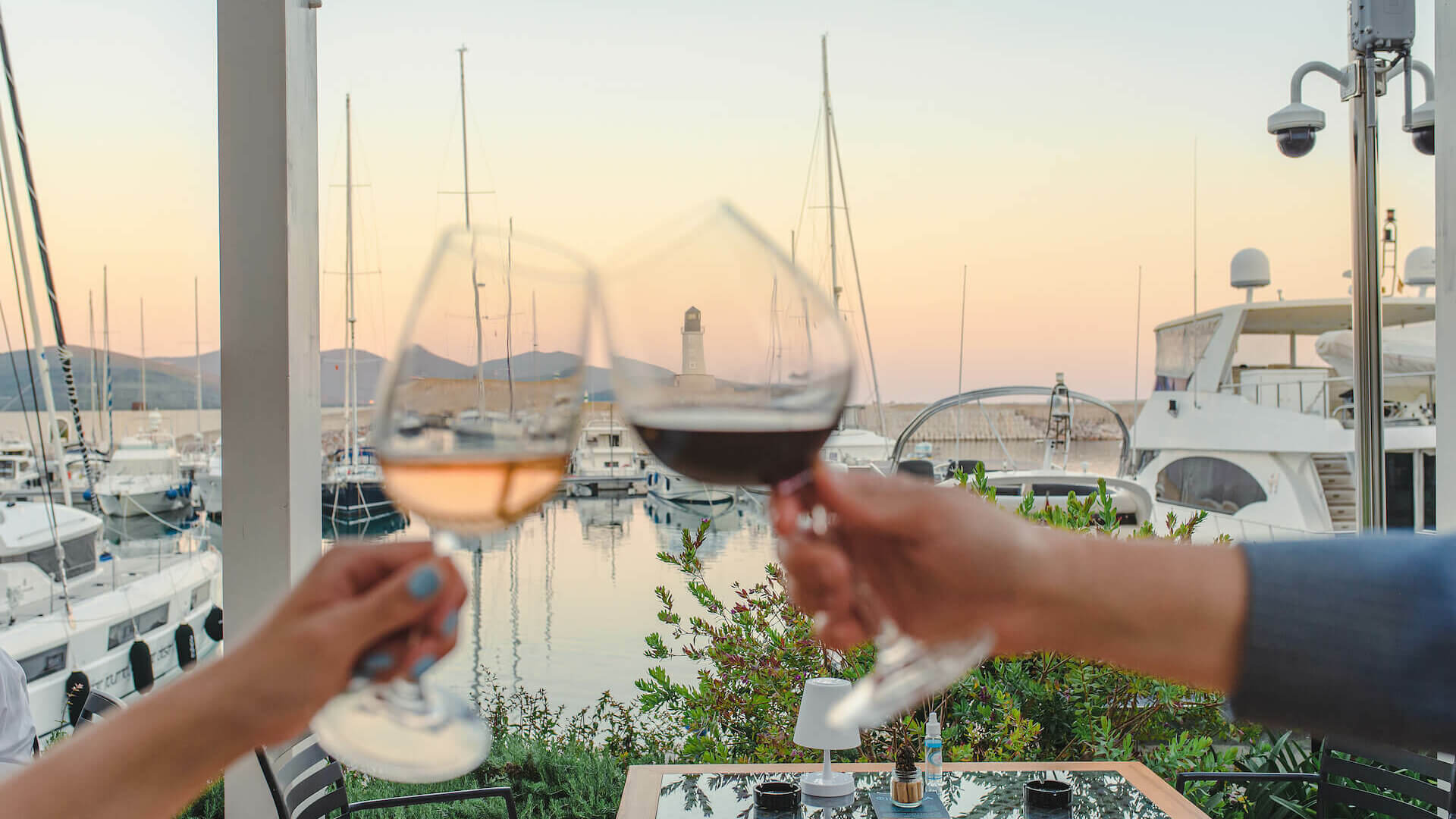 Finestra Wine Bar & Shop
If you're looking for the best beach club in Montenegro, head farther along the Lungo Mare, to the
Finestra is a boutique winery and shop with over 150 wines from Montenegro, the shores of Lake Palić in Serbia, Italy, Spain, France, Croatia, Germany and Macedonia. Yes, Montenegrin wine is superb, typically grown in the country's southern and coastal regions. The Giljača Winery is practically a stone's throw from the promenade – and definitely worth tasting. Giljača Winery's Trio Reserve 2010 comes in white (Sauvignon Blanc, Chardonnay and Riesling) and a powerful trio of ruby reds, including a velvety cabernet with dark fruity flavours of cassis, black cherry and plum.
This popular wine bar is named Finestra – 'window' in Italian – in homage to the wives who would sit anxiously looking out the window at the sea, waiting to toast the safe return of their husbands. From the Finestra terrace, you can clearly see that all the marina's boats are safely harboured. Grab a plate of local olives, cheeses and charcuterie, and toast your luck to be here.
---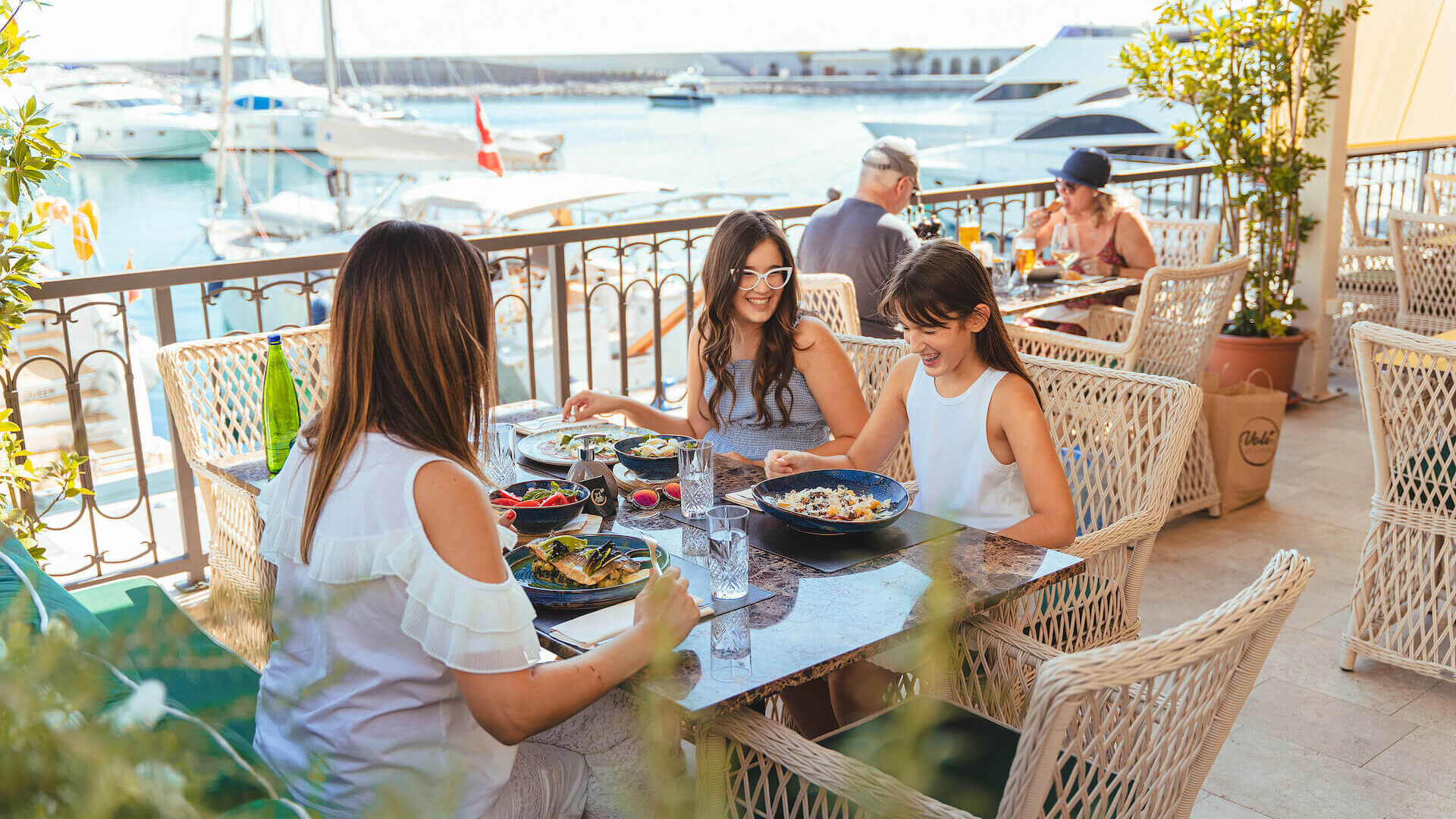 21 Restaurant
One of Montenegro's most popular seafood restaurants, 21 features a sea-to-table menu of fresh fish, scallops, oysters, giant tiger prawns and tuna tartare. Dine on the delightful terrace or in the handsome yet homey restaurant, with tones of warm sand, azure and aquamarine. Relaxing music adds to the convivial atmosphere at this in-demand hotspot for couples, friends and family.
Start with the ceviche for a burst of flavour with every bite: fresh fish drenched in zesty lime, sweet coconut milk, orange, honey, turmeric, and a hint of chilli heat. Another local favourite is the tantalising oven-baked fish, which is especially divine when paired with a glass of chilled Malvazija from the Zenta Vinarija Vučinić. The grapes are from the Vučinić family's vineyard in the nearby Skadar Lake region.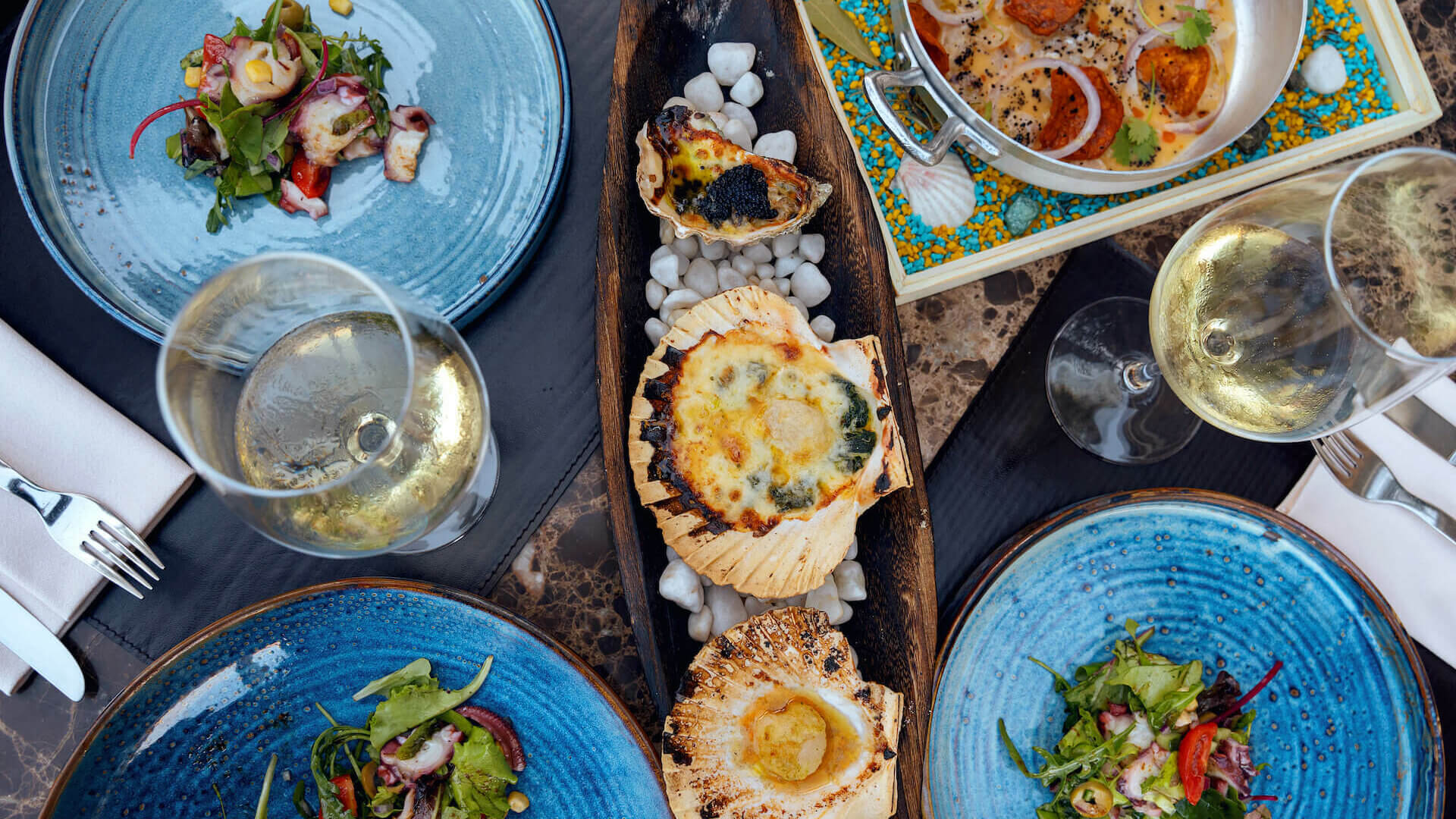 Try an extraordinary octopus salad, complemented by a delicate sauce with hints of balsamic vinegar, mustard and honey – a real crowd-pleaser.
The imaginative cocktails are incredibly moreish, as is the aromatic Cherry Rakija, a traditional Balkan brandy. Thoughtful staff can help you navigate the extensive wine list and recommend the best wine pairings for different dishes.
Dedicated carnivores simply must try Montenegro's famous Njeguski prosciutto. Or tuck into 21 Restaurant's mouthwatering Tomahawk Steak, dry aged to perfection for 45 days. The steak is perfectly paired with a large glass of oaky Vranac Barrique red, also from local vineyards. Homemade pesto adds a zesty twist to the excellent beef carpaccio. There's also a tempting selection of local cheeses made from Italian and French recipes. Desserts are yet another excuse to linger at 21, until sunset or even beyond.
---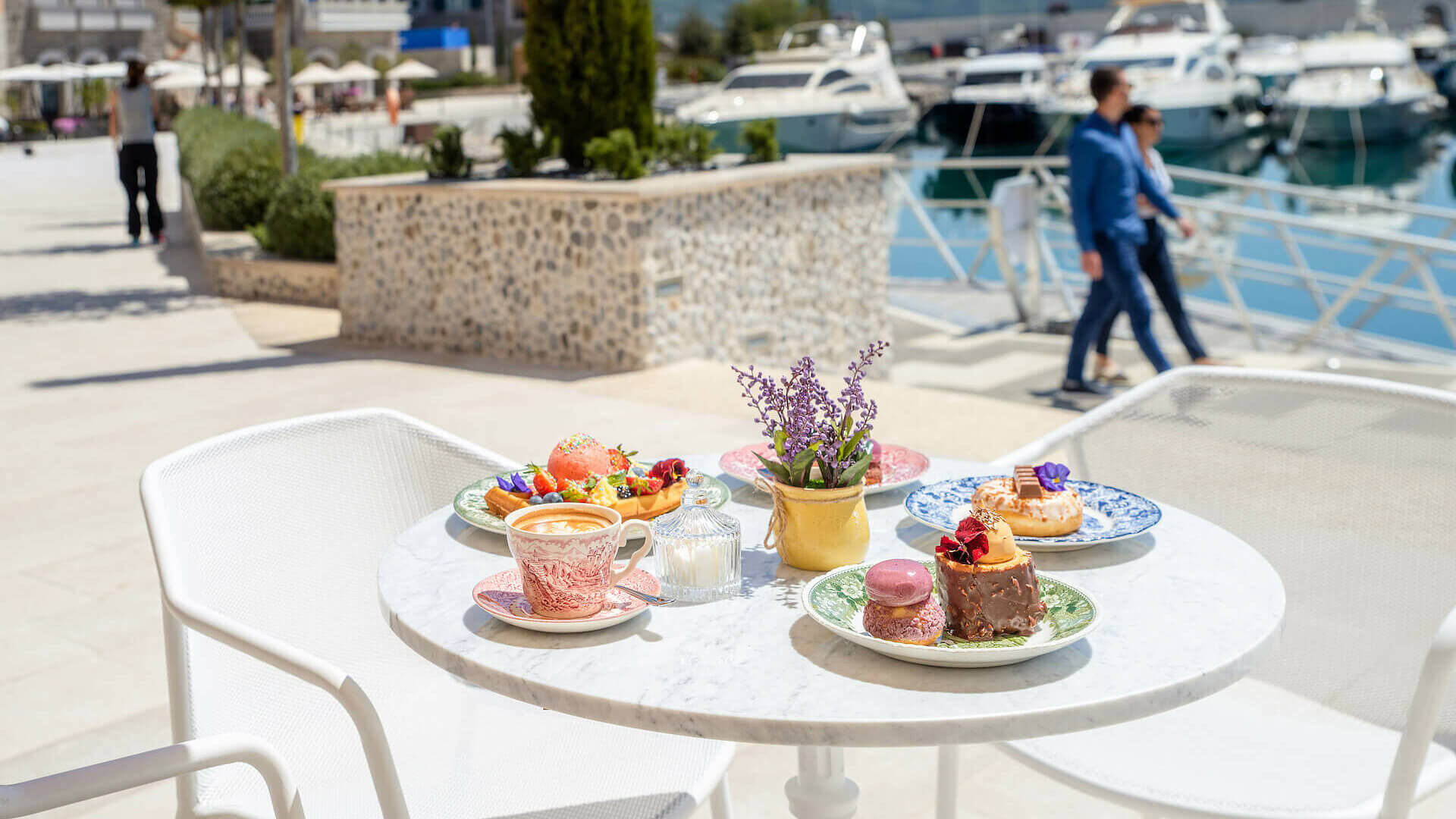 Ciao Bella Gelateria
A sunset sorbet? With Prosecco? Why not? The temptation is too strong now that luscious Luštica Bay is home to the best gelato in Montenegro. The family-run Ciao Bella Gelateria has a marina-side terrace pretty enough for a tea party (or cappuccino party or even colourful cocktail party), with sweet treats served on dainty china.
On hot, sunny days, dive into the refreshing Lemon Basil gelato – tart, sweet, heavenly. The signature Ciao Bella gelato balances refreshing pomegranate with silky-smooth white chocolate and the classic Italian flavour of pistachio. Or go fully nuts in the creamy, crunchy world of Pistachio Pesto or Hazelnut gelato.
Indulge in a delicate tart crème brulée topped with plump red berries. Order a rainbow of pastel macarons. Or settle in for a proper treat, warm waffles topped with gooey chocolate and fresh strawberries.They're open for breakfast, so pop around for a healthy bowl of oatmeal topped with fresh berries and fruit. If you also pick up a cookie or two, we won't tell.
---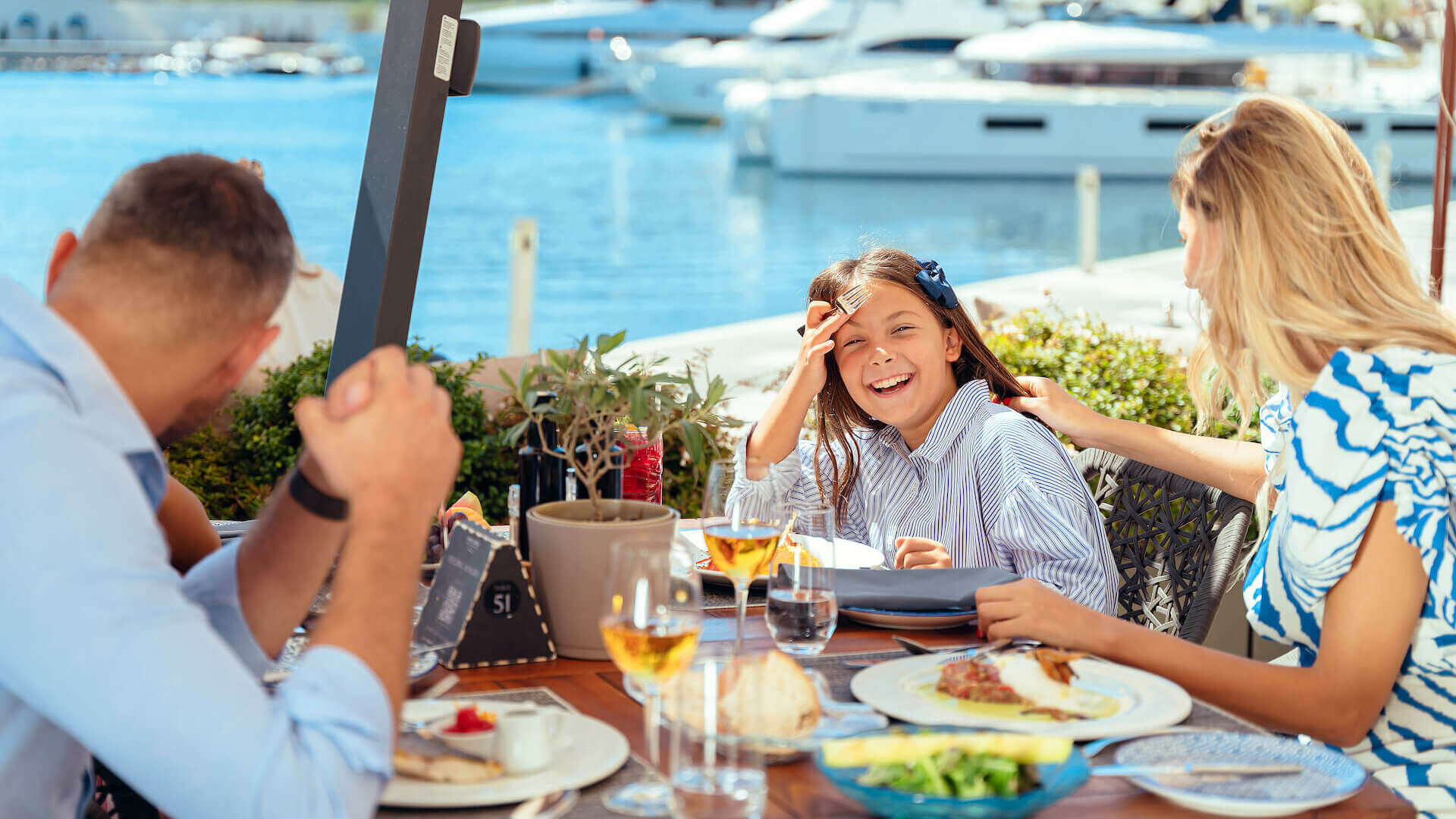 The Spot, The Chedi Luštica Bay
The Chedi Luštica bay five-star hotel is home to several of Montenegro's best restaurants, including The Spot, a stylish all-day brasserie that spills out onto a welcoming terrace along the promenade.
Drift in from the beach or pool for an alfresco lunch, an appealing dinner or cocktails on the terrace. As the sun sets, the pendant lighting takes on a luminous glow, and live music adds a lively buzz. Expert mixologists serve cocktails into the night, with recipes featuring locally foraged herbs. Taste fine Montenegrin wines or craft beers from local microbreweries.
The lunch menu includes inventive salads, such as a watermelon and halloumi salad and "Cucumber Meet Blackberries", with homemade pickled blackberries, sweet onions and goat's cheese. Try the delicious burger and impressive vegan burger, both very popular. Choose ceviche with tuna, sea bream or shrimp, each served with watermelon sorbet. The Montenegrin Platter includes traditional delicacies such as goat kulen, olives, local Montenegrin cheeses and prosciutto. Dinner at The Spot is a bit more formal, with dishes such as grilled red mullet with potato mille-feuille. Grilled sea bass is prepared as a traditional Montenegrin Buzara. Buzara dishes include seafood and a white or red sauce made with wine, garlic and spices, (and for the red sauce, tomatoes). Buzara has many variations among different coastal villages. The Spot serves a tasty red Buzara, featuring clams, gnudi pasta, cherry tomato confit, tomatoes, cinnamon, star anise, cloves and basil oil.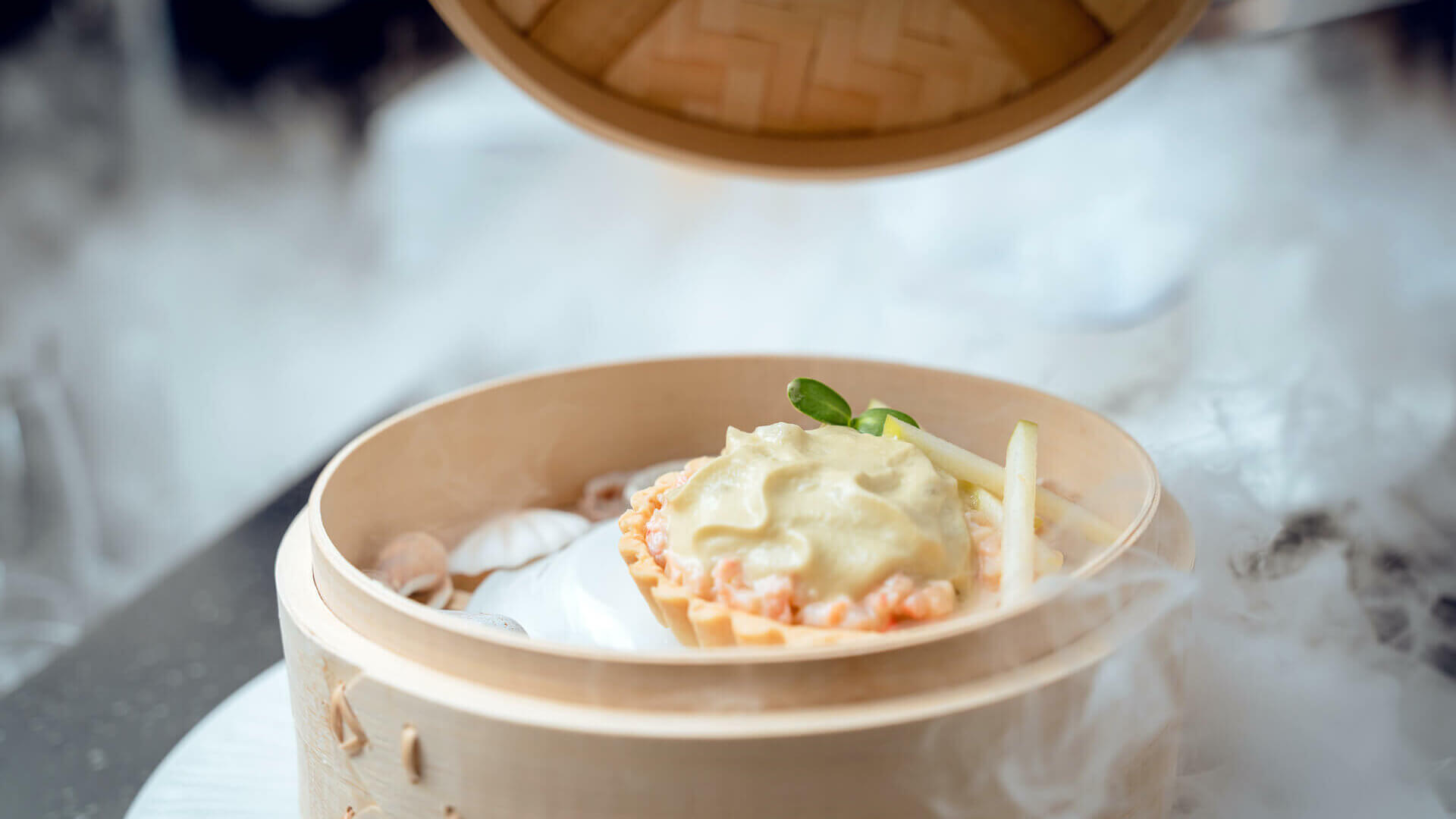 There is tempting flame-grilled seafood and steak, from octopus and whole sea bass to Montenegrin Filet Mignon, Black Angus Ribeye or ultra-tender Wagyu Ribeye. Pasta includes carrot tortellini, creamy risotto with Adriatic shrimps or homemade basil gnocchi. The lava cake is a spectacular way to round out the evening – you may need to share.
For breakfast, get a healthy start with the Really Green Smoothie Bowl, with avocado, kiwi, and kale leaves – or something a bit more indulgent. The Salmon Benedict is simply divine. If you have a sweet tooth, savour the buttermilk pancakes seasoned with caramelized sugar sauce and seasonal berries, or decadent Danish waffles with fruit, chocolate and hazelnut spread, and crème Chantilly. You'll also adore the expertly prepared Mediterranean coffee.
---
Villa Cesare
This authentic Italian trattoria features rustic Italian cuisine, with fresh local ingredients (such as Njeguski prosciutto) and family recipes passed down through generations. At the heart of many recipes is the family's signature tomato sauce.
Start with a delicious tuna tartare or the classic beef carpaccio served with rocket salad and parmigiano reggiano. Traditional pasta dishes have an added flourish, such as the Linguine al Frutti di Mare, heaped with shrimps, prawns, squid, clams and mussels.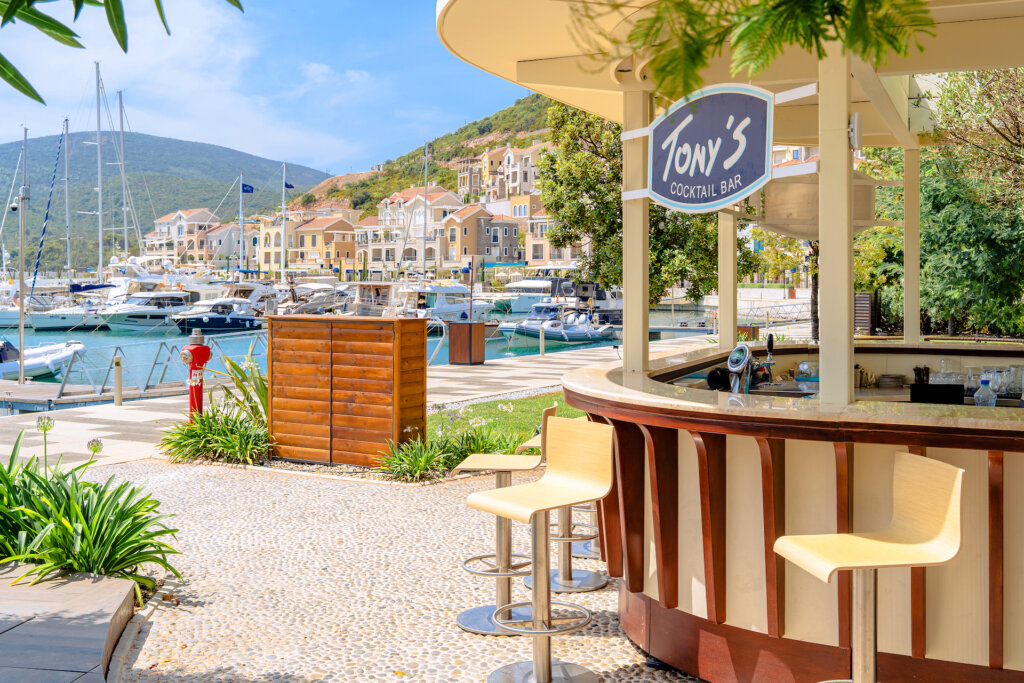 You simply must try the Gnocchi alla Romana, made from Nonna Gigi's personal recipe. The aroma alone (with just a hint of nutmeg) will transport you to the Italian countryside. Pair with a ripe, round Tignanello, one of the so-called Super Tuscans, modern red wines winning awards the world over.
Is there pizza? Certo. Prepared simply and expertly, according to the best Italian tradition, with a thin and crispy base, Nonna's homemade sauce and perfectly melted mozzarella.
Linger over dessert, perhaps a silky smooth panna cotta, tiramisu or the decadent Tortino Cioccolato Fondente, served with ice cream. Tony's Bar is Villa Cesare's outdoor bar, where you can enjoy refreshing cocktails and rousing DJ beats. It's the perfect spot for a revitalising drink and conversation with a spectacular Mediterranean view.
---
As you can see, everything you're hungry for is on the menu in Luštica Bay, for a relaxed breakfast, laid-back lunch or delicious dinner. Reserve your spot now to guarantee a prime table, or simply stroll in – you can always expect a warm welcome here.