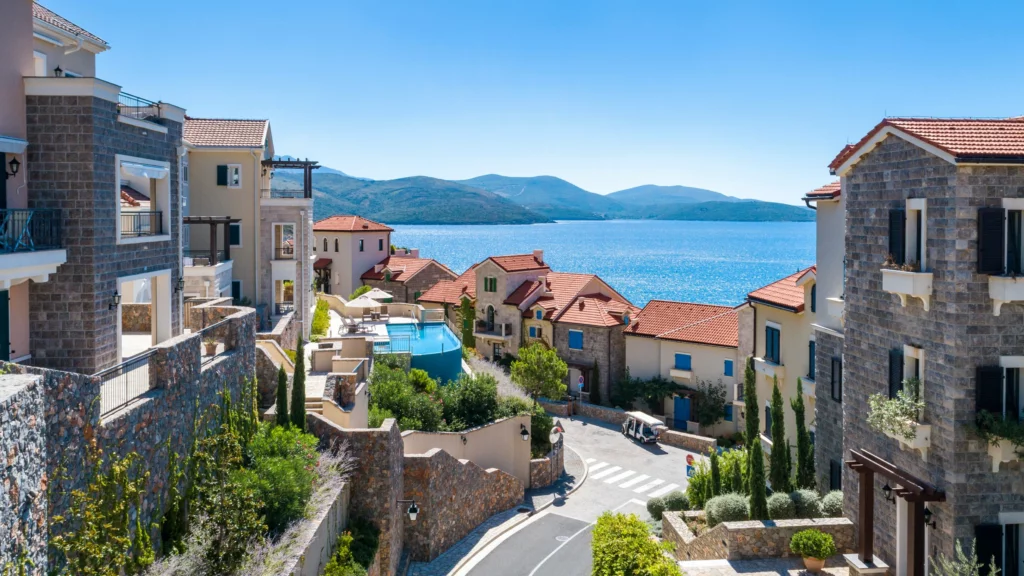 A new town on the Adriatic, Luštica Bay is welcoming visi- tors and residents to Montenegro with an irresistible com- bination of natural beauty and a distinctly sophisticated at- mosphere. Beside the crystal sea are five glorious beaches, sea lounges, a picture-perfect marina and lighthouse, and a distinctive waterfront promenade featuring restaurants, bars and boutiques. Up the hillside is Centrale, a new town hub, with lively squares, impressive sports facilities and dynamic streets fringed with alfresco dining and shops.
he crowning achievement – The Peaks, a refined hilltop commu- nity with magnificent apartments, townhouses and villas boast-
ing out-of-this-world views over the sea is coming soon. With summer just around the corner, this sought-after destination is turning heads, as savvy travellers – and investors – discover the hidden benefits that make Luštica Bay look even better in the brilliant sunshine.
THE PEAKS: LIFE. ELEVATED
This boutique hilltop neighbourhood launches in early summer, with architecturally stunning homes occupying an eminent position on the landscape, next to the only golf course on the Adriatic, planned for the future.
The elevated location will offer views over the golf course, the town and the Adriatic Sea. Carefully carved into the rugged topography of the hill, with minimal environmental impact, The Peaks is a new commu- nity with an old soul. The ethos is traditional, but the aesthetic is utterly contemporary.
Local architectural firm NRA Atelier and world-renowned architects Block722 are creating meticulously designed homes, with a site-specif- ic approach that reflects the epic views and stunning landscape, with touches that pay homage to traditional local fishing villages. They are using sustainable architectural principles and natural materials such as stone and wood, to create secluded, private havens within a sophisti- cated neighbourhood.
The first collection will encompass spectacular villas, plus three-bed- room townhouses with private pools, and one to three bedroom apart- ments. The architects have taken a thoughtful approach to quality of life, creating refined indoor and outdoor spaces for living, relaxing and en- tertaining.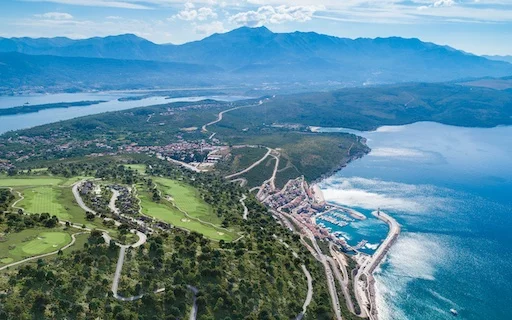 The company representative states: "The Peaks is the epitome of el- egant modern living, designed to bring in the light, with large floor- to-ceiling French windows that connect spacious indoor and outdoor living areas. At every turn, you encounter sensational views and mag- nificently rich landscaping, that highlights indigenous herbs, plants and flowers. We are excited to launch this unmatched off plan investment opportunity in early summer."
cally sourced ingredients.
The area is really coming to life, with a new coffee shop Caffein, for coffee lovers, with a fragrant selection of coffee blends from around the world. Finally, service outlets will include a dry cleaner, as well as a car hire facility for trips to the nearby Boka Bay or an adventure into the gorgeous Montenegrin mountains. Keep an eye out for more exciting retailers joining the Piazza over the spring and summer months.
CENTRALE PIAZZA –
A NEW PLACE TO DISCOVER
Speaking of summer, the season's new place to unwind will be the at- mospheric Centrale Piazza at Luštica Bay, with inviting eateries, bars, shops and a boutique hotel planned. Centrale, Luštica Bay's new town center on the hillside, is thoughtfully designed as a thriving year-round destination for life, work and play, and a central focal point for all the Luštica Bay districts.
This neighbourhood features attractive outdoor spaces inspired by historic Mediterranean squares, where families and friends can gather for conversation and culture. Centrale also has inviting homes that are proving very popular, thanks to the lively town energy, as well as play- grounds and lush green parks.
The Piazza is welcoming several new concept stores, including Luštica Beauty Bar, a haven for intensive pampering and innovative skin treat- ments, with a beauty shop where you will find your favourite cosmetic brands plus stylish beachwear. A fashion store by famous Spanish de- signer Manuel Fernandez brings international glamour – plus an ethical and sustainable philosophy. Browse in the contemporary Art Gallery, where you can pick up attractive artwork to decorate your home. Af- terwards, relax in the glamorous tearoom, Mariage Frères, which also features a showcase of stylish jewellery pieces.
Head to the POPOV Premium Pub for a polished take on the urban pub experience, with a wide selection of tasty comfort food, and drinks with a wide selection of beers and the nation's favorite, rakija. Speaking of local favourites, Luča, an enticing national restaurant offers a modern twist on tempting traditional Montenegrin dishes, all created with lo-THE COLLECTION
THE ULTIMATE COAST – FOR A GETAWAY (OR FOR GOOD)
Families love the coastal lifestyle, with five beaches, neighborhood
pools, kayaking and more. Walking or hiking around the Luštica Pen- insula opens up sensational vistas in every direction, from the stunning blue sea to a painterly landscape of romantic olive groves framed by tra- ditional stone walls.
These days, it's easier than ever to work remotely… while soaking up the fresh air and sea views. Couples young, older and in-between are escaping for dynamic adventures in sunny climes, and a more holistic work-life balance with a better quality of life.
It's no wonder that more than 400 families from 40 countries have decided to find their place in the sun here at Luštica Bay. The strategic investment opportunity is supported by the benefits for individuals and families and for the town itself – thanks to its visionary overview. This is integrated and thriving community, designed for a healthy community lifestyle – and in harmony with the natural environment.
A holiday here lets you test the waters… and many people decide to dive in for good. Life really is better here on the Adriatic coast at Luštica Bay.
Corporate & Sales Office
85323 Radovici, Tivat, Montenegro E: info@lusticabay.com
T: +382 77 200 100
W: lusticabay.com