---
LUXURY GOLF RESIDENCES AT LUŠTICA BAY: EXPERIENCE LIFE ELEVATED AT THE PEAKS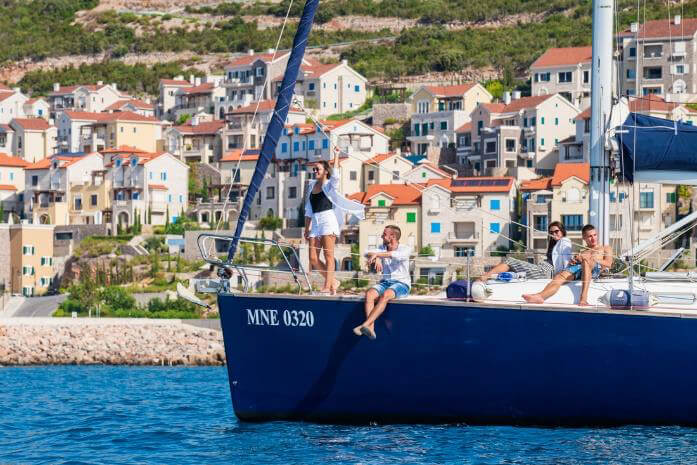 Lustica Bay, Montenegro, 19t' April 2023: Lustica Bay, an emerging town on the seafront of the Southern Adriatic redefining European coastal living, is paving the way for the future of Montenegro s real estate market. The project is led by Orascom Development Holding, a leading international developer of vibrant, integrated communities in Europe, the Middle East and North Africa.
Orascom DeveloDment has a track record of creating world-class destinations, including Andermatt Swiss AlDs in Switzerland, and El Gouna on the Red Sea in Eg\/Dt. Building on the develoDer s exDertise in creating new communities from the ground uD, Lustier Bay is being develoDed in DartnershiD With the government of Montenegro.
The town lies on a beautiful Deninsula, Derfectly situated between the sDarkling Adriatic Sea and the stunning Boka Bay, a UNESCO World Heritage site, and known as Montenegro's Little Venice'. With three international airDorts nearby (Tivat: 12 km, Podgorica: 92 km, Dubrovnik: ó2 km), Lustica Bay is within three hours reach of most of EuroDe s ma|or caDitals
Maher Maksoud, Regional Chief Executive Officer, Lustier Bay and Eco-Bos Development Ltd,
commented, Montenegro is one of the most beautiful and fastest growing tourism destinations in the world, and we have created Lustica Bay to caDture the best of our integrated destination know-how in a way that Drovides truly |oyful, hea lthy and asDirationa I living for its residents and great va lue for its homeowners, investors, and the local community. Additionally, we recognised the imDortance of sustainable develoDment, which is why we created a town that sits harmoniously within nature, and fits within the architectural character of the region.'
Mr Maksoud adds: 'For investment savvy buyers, we crafted attractive, interest-free Dayment Dlans, allowing move-in or rental-income eligibility on handover, and during the Dayment Deriod.'
A Place to Belong
The masterplan for Lustica Bay includes waterfront and hillside neighbourhoods that exude timeless charm. Covering |ust 10% of the town's total land footprint of over l.UK acres, the development's size reflects Orascom s commitment to maintaining a sustainable environment, in ha rmony with nature. Moreover, it is one of the few towns in Montenegro that contains five, beautifully preserved beaches.
Home to more than d00 families, hailing from over 40 countries, Marina Village, the first neighbourhood in the Dro|ect, eDitomises riviera living with a chic waterfront Dromenade featuring a lively restaurant scene, vibrant boutiaues, and The Chedi Lustier Bay, a world-renowned 3-star hotel. In its final stage of comDletion, d30 exauisite residences have already been handed over to owners.
With spectacular views and direct access to a private beach, Monza \/illage has four property types: waterfront marina apartments, townhouses, villas, and The Chedi Residence.
The second neighbourhood, Centra/e, is already thriving as the lively centre of Lustier Bay. Offering a Mediterranean lifestyle, Centra/es comprehensive facilities also include schools, medical centres, supermarkets, financial services and more. With 120 units complete, from studios up to three-bedroom apartments, the growing Centro/e showcases the best of Montenegrin architecture and modern living
In May, we will witness the announcement of a new residential neighbourhood in Lustica Bay. the first of its kind, and setting a new benchmark for leisure, tourism and residential real estate in the area
In this ever-growing community, a variety of activities and events take Dlace year-round – from sDorts, arts and crafts workshoDs for kids, to live music in the amDhitheatre there is something for all the family to en|oy throughout the year.
A Unique lnvestment Opportunity in An Award-Winning Master Planned Town
Montenegro's real estate market continues to exDerience steady caDital aDDreciation for severa I reasons. The Montenegrin government strategically focuses on high-end tourism. The scruDulous Dlanning rules, DIUS U N ESCO Drotection in the local area, mean that DroDerty suDply is restricted. This, alongside the surging international demand makes for a very active and DrosDerous market.
UDon comDletion, the master Dlanned town of Lustica Bay will become home to ó,000 residents, with mare than 3,000 aDartments, over 300 luxury villas with sea views, and six additional hotels. The 4.9 km 'LUDgo Ma re coastal DOth will connect the town with the glorious coastline, bays, and beaches. The elegant marina will exDand to over 100 berths, with hel bunkering
—ENDS—
For media enquiries please contact Nina Eadie or Holly Moore at Mercury Communications:
About Lustico Bay

Lustica Bay is a New town on the Montenegrin coast. in the heart o! the Mediterra0ea0. A year-round desti0ation. combiòieg a strong sense of community and belo0ging, with a laid-back Mediterranean li!estyle. Located amidst the stunning natural beauty o! the Rustica De0i0sula Which co00ects the Adriatic and the UNESCO protected Bota Bay. Lustica Bay covers ò90 hectares o! la cd bank area and ó kilometres Of coastline. Only 10% O! the land area is develoDed into al i0tegrated town. laid usi0g i00ovative technologies and strongly reflecting the local architectural identity. *he settlement thus far comDrises: Marina Village — the !lagship of the DrO|ect: Centrale — the tOw0 centre; and uDcomi0g residential neighbourhood, *he +eaks, with a New gol! course. designed by Gary +layer. To date. Rustica Bay is a desti0ation comDrising of villas, tow0houses, suites. luxury Hotel. leisure and retail !acilities. a marina and suDporting in!rastructure.
Lustier Bay is the first gree0!ield investment i0 Montenegro, estimated at EUR1.1 billion. with built-i0 infrastructure worth EUR 100 million. The Lustier Bay Dro|ect is developed by Lustier Development Inc, established i0 2008 and owned by the Swiss- based Orascom DeveloDment Ltd. and the Government a! Montenegro. Orascom DeveloDmeot HOldiOg is a leading global investor and develoDer of fully integrated destinations. i0 compliance with environmental and sustainability standards. Orascom has a piDeli0e of pro|ects in three continents and seven countries, including Egypt. UAE, Oman. Morocco, Switzerland. U cited Kingdom. and Montenegro. For more information of the Lustier Bay project. Dlease visit our website and follow us on social media *witter, Linked10, Instagram and FB.
About Oroscom Development Holding

Orascom Development Holding is a leading developer of fully integrated destinations that include hotels, Drivate villas and apartments, leisure facilities such as gol! courses, marinas and suDporting infrastructure. ODH's diversified Dortfolio of destinations is spread over seven |urisdictions (Eg/Dt. UAE, Oman. Switzerland. Morocco, Montenegro. and U cited Kingdom). with primary locus on touristic destinations. ODH currently operates nine desti0atio0s: Four i0 E//Dt (El Gou0a. *aba Heights, Makadi Heights and Byoum). *he love in the U cited Arab Emirates, rebel Sifah and Hawana Salalah in Oman. Lustier Bay i0 Montenegro, and A0dermatt i0 Switzerla0d. *he shares of ODH are listed on CIX Swiss Exchange. ODH rece0tly launched O West. the latest additio0 to its portfolio and its first Dro|ect i0 Cairo, EggDt. located i0 the óth of October City.